With NBA All-Star weekend behind us we can now look forward to the second half of what has already been a fun season. Sure, the play hasn't always been stellar or consistent with the compacted schedule, but it's better than no season any day.
A few notes from All Star weekend:
I was pleasantly surprised to see Kevin Love take home the 3 point contest trophy. It was funny to read the tweets over the weekend with people talking about how different Kevin Love looks this year and bewildered as to why he was invited to the shoot out (those tweets died down after his first round). Those tweets reaffirmed how painfully little national coverage the Wolves have received. I've watched my fair share of Wolves games this year but they've come via internet stream and people are definitely missing out on all the spectacular Rubio/Love play (and no, ESPN highlights don't do Rubio's game justice). ESPN had their game against the Clippers when Love hit a game winning 3, but as of today they only have one more ESPN game coming on April 9th, and that's an ESPN2 game. Here's to hoping for some NFL-style flex scheduling.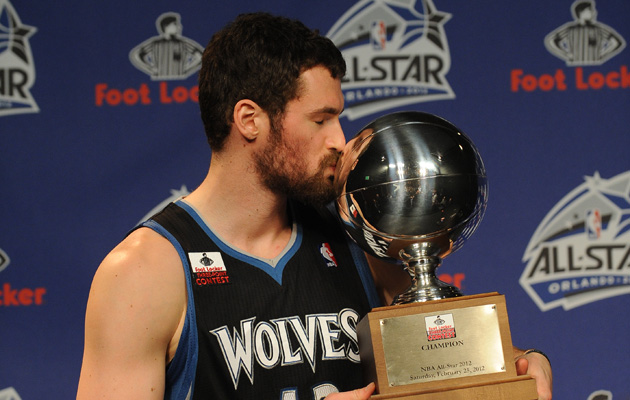 I'm hoping that the guys who dogged it through the NBA Skills Challenge pulled out their checkbooks and gave the kids they were supposed to be playing for a nice scholarship check. It's one thing to half-ass your way through a relatively meaningless contest, but when there's an opportunity to earn a 25k scholarship for an underprivileged kid on the line, at least break a sweat.
While the dunk contest is nowhere near "fixed", those guys did give us a few nice moments. I understand that the dunk contest can be used to boost a young players exposure and get his name out there, but we are in desperate need of another Vince Carter/Jason Richardson/etc. style performance. LeBron, Westbrook, step up.
Speaking of LeBron, his performance last night in the ASG brought about another interesting round of Twitter analysis. As he was heating up in the 4th quarter, the tweets were focused on him only showing up in the 4th in an exhibition game. Then, when he chose to pass to Deron Williams on a drawn up play (correct basketball move), followed by an awful intercepted hot potato pass (incorrect basketball move), followed by inbounding the ball for the final play (best passer on the floor at that point, but should have tried for the shot), the tweets turned back to him being awful in the clutch, lacking courage, etc. LeBron turned a blowout game into a thriller but is taking the scorn and blame for the loss despite several mistakes made by teammates. It was a lose lose situation and unfortunately overshadowed what ended up being a very entertaining game. Even if there is a general lack of perspective on the situation, the fact at this point is nothing LeBron James does or doesn't do is going to matter until he hoists an NBA championship trophy.
And now let's take a look at my preseason thoughts and predictions on the contenders and I'll re-evaluate their contender status as we begin the second half of the 2011-12 NBA season.
Western Conference
Los Angeles Clippers
The two main concerns I listed about the Clippers, questionable defense and the Clipper injury curse, are currently in play. According to Basketball Reference the Clippers are currently rated 21st in terms of defensive rating, are middle of the pack as far as opponent field goal percentage and defensive rebounding, and are near the bottom in terms of forcing turnovers and blocked shots. As for injuries, they lost Chauncey Billups for the season and a lot of people viewed that pick-up as the difference between the Clippers as a playoff team and the Clippers as an NBA Finals team. Chauncey wasn't having a stellar year, but his experience come playoff time would have been invaluable. The Clippers bolstered their front court with the addition of PF Kenyon Martin, but I'm not that makes up for the Billups injury.
Contender status: I'm downgrading their contender status a bit. I like their odds better with a healthy Billups. Considering their pace and defensive rating are in the low 20s, they aren't out running teams and aren't playing lock down D but they are still contenders as long as CP3 is on the floor.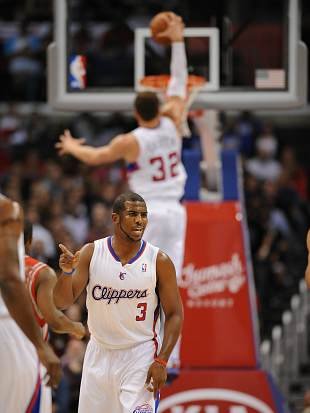 Los Angeles Lakers
I said the Lakers could win it all if Kobe played like a man on fire and if Bynum and Gasol live up to their potential. Kobe is obviously still just as driven and is leading the league in points, but those points aren't coming as easily or efficiently as they used to. Thanks in part to his .285 from beyond the three point line, Kobe is currently having on of the worst shooting years of his career. I give him credit for playing with the injured shooting wrist, but question why, when his shot is off, he isn't utilizing the size advantage the Laker's have and saving up some energy for the post-season. Of the big men, Bynum is having a much more consistent year as Gasol continues to appear to suffer from constant trade rumors.
Contender status: No change. This core group has had rough stretches in the past and pulled things together come playoff time, so you can't count them out. There's nothing Kobe can do about the absurd mismatches they face at PG almost every night, and I believe the season hinges on Gasol and Bynum playing well enough to make Kobe believe there is more to play for this year than the scoring title.
Oklahoma City Thunder
The biggest obstacle that I mentioned the Thunder facing was the ability of their two best players, Russell Westbrook and Kevin Durant, to co-exist on offense. Despite what Skip Bayless may want you to believe, these two are functioning together just fine and the one two scoring punch is a nightmare to deal with. I'm sure you can find examples of games where Westbrook forced a few shots that should have been Durant's to take, but it's hard to argue that the Thunder are any worse off as they sit tied for first in the NBA with a 27-7 record. The Thunder's biggest setback so far has been the season ending injury of backup PG Eric Maynor, but it's a setback that they can overcome considering Westbrook's youth should allow him to play big minutes all season regardless.
Contender status: Upgrade. The Thunder's defense has been better than expected (currently 14th rated) and they are second in the league in points per game which is an enviable combination. The biggest question come playoff time is what they will do without an inside offensive presence if their outside shots aren't falling in a game.
Dallas Mavericks
Believe it or not, but the Magic are currently a statistically a better defensive team this year than they were a year ago with Tyson Chandler. I'm not necessarily convinced that this will be a lasting trend come playoff time as some of what Chandler provided, such as altered or all together avoided shots in the paint, won't show up in the stats, but it's a positive sign for Dallas. Dirk, much like Kobe, is having one of his worst shooting years so the fact that Dallas currently sits in 4th place in the West is encouraging.
*It wasn't until looking at a current depth chart that I was reminded that Dallas added Lamar Odom. I think that pretty much sums up the acquisition to this point.
Contender status: No change. Dallas wasn't my pick out of the West to start the season and they aren't now either. I may be a bit skeptical, but the stars really aligned for Dallas on last year's great playoff run and I don't see Vince Carter providing the same spark that JJ Barea did last year.
Eastern Conference
Chicago Bulls
The Bulls had a great start to to season and they even managed to continue their winning ways with MVP Derrick Rose sidelined for ten total games due to injury. Defense is their bread and butter, and few teams play consistently tough, hard nosed defense like Chicago does. New addition Richard Hamilton has played in just 11 games himself and even Luol Deng has been banged up so we haven't really seen this team at full strength yet. Despite the injuries, the Bulls are currently rated 3rd in offensive rating and 2nd in defensive rating. At this point in the year, staying healthy is the key for the Bulls as they'll need all their weapons in order to make a deep playoff run.
Contender status: Upgrade. It's hard not to increase the expectations for the Bulls who have the leagues third best record despite battling a bunch of injuries. The greatest concern was and continues to be how they would handle the Heat in a seven game series and if their offense can keep up, especially if Rose has a poor outing.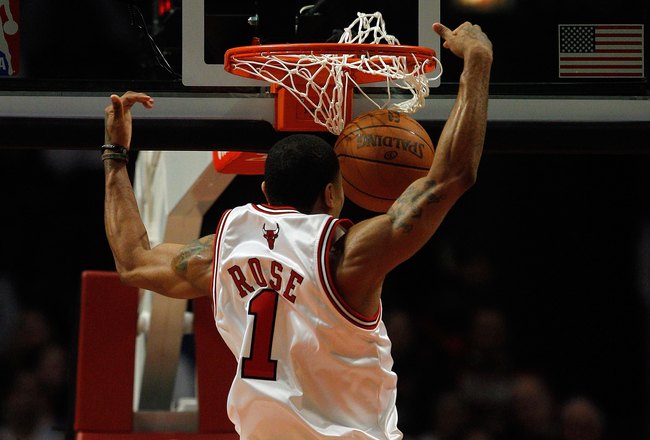 Miami Heat
The Heat entered the break the hottest team in the league winning eight straight by twelve points or more. LeBron James is having arguably his best season and one that is on pace to be considered one of the best of all times. Dwayne Wade recently came back from injury and is also playing at an extremely high level and when your third best player, Chris Bosh, is averaging 18 points and 8 rebounds, things are clicking. The rest of the team isn't playing like scrubs either as Mike Miller and Mario Chalmers are each in the top 10 in terms of three point shooting percentage. As good as their offense has been, a big part of their success up to this point has been stifling defense.
Contender status: Upgrade. We didn't really get to see many games last year with a fully healthy Miami squad and the difference this year has been noticeable in a good way. They are a deeper team this year and LeBron's improved post game has opened up a lot of options for the Heat.
New York Knicks
I gave a variety of reasons why I thought the Knicks were contenders before the season start, but LINSANITY!!! was not one of them. I kid, I think Lin is a fine player and I find myself rooting for him but he isn't the savior Knick fans are wanting him to be. Even after the hot streak post-Lin, the Knicks are one game below .500. Carmelo hasn't looked good and Chandler isn't dominating the paint like he did last year in Dallas. The next few weeks will be very telling and I think the Knicks do have a chance to continue their current hot streak and continue to improve.
Contender status: Slight downgrade. The Knicks started out poorly and only saved face before the break after Lin sparked a surge. Right now the team looks more like a collection of players than it does a cohesive team and as is I don't see them surviving a playoff series against Chicago or Miami.
Boston Celtics
I was iffy with putting Boston down as title contenders to start the season and now I know why. Father time has been ticking on this team for a while, and it's definitely showing this year. Any contending team would be glad to have Kevin Garnett, Ray Allen, or Paul Pierce on their team, but those three together just seem a bit too slow this time around. Rondo is having another good season, but he isn't the guy who will provide a nightly scoring punch. There's still fight in this team, but the odds aren't in their favor.
Contender status: Downgrade. I can't completely count them out as their big 3 is definitely capable of a playoff run, but I think there are too many other talented teams in the East that have the youth and depth to counter their experience. There wouldn't be rumors about breaking up the big 3 and rebuilding if the Celtics management could foresee a solid playoff showing with the current group.
Should have, could have…
If I could substitute one team from each conference to take the place of an above preseason contender, I think I would consider the Spurs in place of the Mavericks. I'm leery of this option because last year the Spurs were in a similar position: winning lots of games and finding time to rest Duncan and Parker. Then come playoff time I predicted they would do big things, and they failed. This year may be different, but for now I'd choose to keep the Mavericks on the list over the Spurs.
In the East, I'd drop the Celtics and add the Orlando Magic. The main reason I left the Magic off in the first place was the uncertain trade status of Dwight Howard. That status is still uncertain, but I think he'll likely be in Orlando the rest of the year considering they have a good shot at the #3 seed in the East. With the best center in the game playing well and Ryan Anderson lighting it up from 3, I think Orlando is currently a bigger threat come playoff time than the Celtics.
Prediction
My original prediction was Miami over Oklahoma City in the Finals and I have yet to see a reason why I would change that. They are both tied for the best record in the league and have been playing dominant basketball. I gave the advantage to the Heat in the preseason because they play better defense and that has been the trend so far this year. After seeing the show Durant, Westbrook, James, and Wade put on in the All Star game, a potential 7 games between these teams has the makings of a great NBA Finals.