UPDATE (Tues. July 20th, 6:45PM ET): We have now reached the limit of entires for "The Sports Geeks" Online Dynasty for NCAA Football 11 on PS3!  If you were interested in joining us but got here too late, be sure to watch this site in mid-August for when we announce "The Sports Geeks" Online Franchise for Madden NFL 11 on PS3; with 32 teams available, you'll have a much better chance of joining us!  Thank you!
As many of you are aware, I have a soft spot for sports video games.  I even used the occasion of the National Football League's new playoff overtime rules to suggest how the EA Sports development team could teach football fans about those rules in this year's Madden NFL 11 title.  Well, on Tuesday, July 13th, 2010 the latest version of the NCAA Football video game franchise was released for Playstation 3, XBOX 360, and Playstation 2.  To celebrate this year's release–and let those of you who read The Sports Geeks have a chance to get involved–we are going to use the game's "Online Dynasty" mode to crown a college football champion of our own.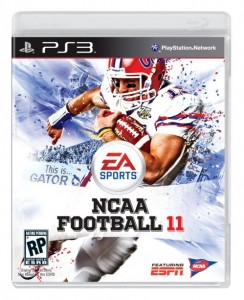 Since Alex, Pat and I all own Playstation 3 consoles, "The Sports Geeks" Online Dynasty will be held on the PS3; sorry to all of you XBOX 360 users!  If we can find somebody who is willing to host an Online Dynasty for the 360, we may expand our involvement to that console as well; for the time being, however, you'll need to have a PS3 and a copy of NCAA Football 11 to participate.
I will be playing in the Online Dynasty, and I will also be serving as "Commissioner;" essentially what this means is that I will be the person in charge of advancing the Online Dynasty and notifying players of the match-ups they have to play in.  The number of users in an Online Dynasty is capped at 12, so we are looking for 11 people to join up and help us play out this season.
The first 11 players to comment on this story will be entered into the Online Dynasty; if fewer than 11 people comment, we will start the Online Dynasty with however many people we have signed up as of 12:00PM ET (noon) on Wednesday, July 21st, 2010.
The purpose for placing all user-controlled teams within a single conference is to emphasize player-versus-player matches instead of having an Online Dynasty of multiple users who mostly play games against the computer.  In order to ensure that there is balance across the conference, the vote will be limited to the following four conferences, which are the most balanced in terms of ratings in the game:
Big East Conference

Pacific 10 Conference

Big 12 Conference

Atlantic Coast Conference

Because of the interest in providing the most balanced play within a single conference, only these four conferences will be considered in the voting; if you absolutely would not want to play in any of the above conferences, then you might be best off deciding not to volunteer for membership in this Online Dynasty.
Once a conference has been selected, teams will be assigned through random lottery.  Two groups will be used—one with user names and one with college names—and one name will be drawn from each group simultaneously to match up a user and their team.  If there are fewer players than teams in the selected conference, the CPU will control the team(s) not selected from the hat draw.  If there are more players than teams in the conference with the most votes, then a re-vote may be tallied using only conferences with the appropriate number of teams.
This Online Dynasty will obey standard NCAA Football 11 rules: for example, All-American difficulty, 5 minute quarter lengths, etc.  For roster names, we will be using the "gamingtailgate" roster file.  As "The Sports Geeks" Online Dynasty will only run for a single season, no extra time will be allotted for the recruiting process; those high school prospects will never factor into the dynasty anyway.
Players who commit to be a part of The Sports Geeks Online Dynasty must be willing to play at least two games each week.  Failure to do so may result in forfeiture of those games and eventual removal from the dynasty.
All player-versus-player games will be conducted under "fair play" expectations:
All play-calling decisions should reflect real-life game situations; for example, fourth down situations early in the game should see a player punting or attempting a field goal instead of going for a first down.
Players should not abuse glitches or "money plays" inherent in NCAA Football 11 for the sake of winning player-versus-player matches; any reported abuse may see disqualification from dynasty play.
A team with the lead at the end of the game playing offense against an opponent with no timeouts should run out the clock instead of running up the score in the interest of merciful play.
Players will be expected to submit highlights and write up a basic recap of the games they play using the NCAA Football 11 Dynasty Wire feature; particularly good highlights and write-ups will be shared on The Sports Geeks website.
The player who wins the conference at the end of the season will win a mouse pad from The Sports Geeks and will be entered into The Sports Geeks "Video Game Hall of Fame" as the first-ever NCAA Football Online Dynasty Champion.  This winning player will also earn a guaranteed spot in The Sports Geek Online Franchise for Madden NFL 11, which will begin in late August 2010.
Now you know the rules and guidelines; what are you waiting for?  If you own a Playstation 3, a copy of NCAA Football 11, and you want to be part of "The Sports Geeks" Online Dynasty, leave a comment below with:
Your PSN ID.

Your email address.

Your conference pick from the four mentioned above (Big East, Pac-10, Big 12, ACC).
The first 11 comments will be entered into the Online Dynasty so that names and teams can be drawn and games can begin!