Ron Artest has had an almost inconceivably up-and-down NBA career. He's dealt with circumstances – most notably the famous brawl in Michigan – that could have ended his career, but still supplied us with plenty of entertaining moments. After coming to Los Angeles via free agency during the off-season – a move some questioned – it all paid off for Ron tonight, as the Lakers clinched their second championship in as many years. Artest, who has struggled at times during the series, came to play tonight, with 20 points, 5 rebound, 5 steals and solid defense. He seems to have turned the corner in is life and is handling his previously out of control emotions better, but that doesn't mean he's not still a character. As an addendum to my previous post on Artest, here are the best moments from Ron Artest in the 2009-2010 season:
Ron Artest Says – Ron Artest says he used to drink Hennessy at halftime, Ron Artest says he suffered memory loss after concusion, Ron Artest says the media coverage of Tiger Woods is unfair, Ron Artest says Trevor Ariza's a better player.
The Haircut – Not the first time he's had unique hairdos, but this one was probably the most colorful. It's supposedly "defense" in Hebrew.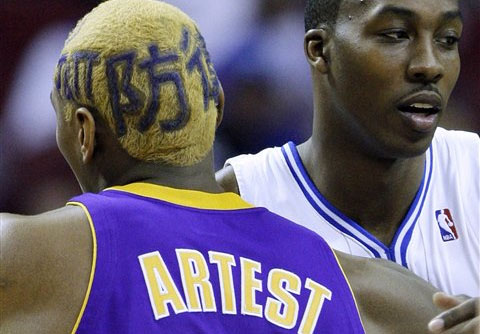 Miracle Tip-In and Queensbridge Shoutout
Last Night's Press Conference  – This is fantastic. He comes in and mentions that he had "some champaign", and I'm guessing by "some" he means a few bottles. If nothing else, watch the first few minutes (if the NBA takes this down, let me know, and I can re-upload it):
More From Last Night – Interview with NBATV, Answering questions for L A. Times
Shoutout to Hood, Family, and Psychiatrist – Ron becomes quite possibly the first athlete to thank his psychiatrist on national television.
So, as the season winds down, even
Laker-haters
can draw some enjoyment from the insanity of Ron Artest. We love you Ron; see you next year.