Baseball players, more so than other athletes, are defined by the statistics they accumulate over the course of their careers. Recently, much has been made of impact that the steroid era has had on baseball's record books. Cheating was involved, which makes the era seem tainted, but this was not the first time baseball has seen a change in playing style. Players in the early and middle part of the 20th century also played under circumstances that allowed them to set records that will likely never be broken. I've spent way too much time browsing Baseball-Reference.com's Leaders & Records Section and in doing so have come across a lot of interesting stuff. Let's take a look at some of baseball's records and examine whether or not they'll ever be broken. This is by no means a complete list of records, just a collection of a few of the interesting and important ones. Warning: the stat geek in me came out in this post, so there are a lot numbers and facts in crammed in here; I tried to break it up with some pictures, but this isn't for the faint of heart. In no particular order: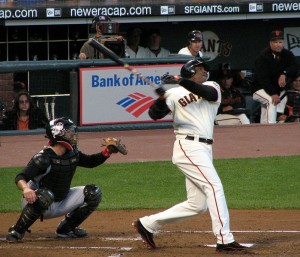 762 – Career Home Runs, Barry Bonds, Status: Breakable – We'll get to a few more of Bonds' records later, but I want to get the home runs out of the way. One of the poster boys for the steroid era, it has never been fully proven that Bonds was using performance-enhancing drugs, but I think it's safe to say there are very few people who think he was clean. For that reason, there are a lot of people, myself included, who are rooting for someone who isn't linked to steroids to surpass Bonds, take back one of the sports' most coveted records and legitimize it once more. But who will that savior be? Ken Griffey, Jr. had a chance but he's been plagued with injuries and Alex Rodriguez might still get there, but now he's admitted to using PEDs during some of his most productive years. More than likely, the only active player who has a shot at the home run record is Albert Pujols. He's on a good pace and is young enough, that if he stays healthy he'll be able to rewrite the baseball record books.
2632 – Consecutive Games Played, Cal Ripken, Jr., Status: Untouchable – As I was doing research for this article, I became more and more convinced that no one will ever break Ripken's record. Playing in over 16 seasons worth of games without a missing a single one is impressive, but what makes this record incredible is the level of performance that Ripken was able to maintain for the duration of the streak. During the 2632-game streak, which started in May of his Rookie of the Year season, he won two MVPs, two Gold Gloves, eight Silver Sluggers, one World Series, a Home Run Derby, and made the All Star Team every year, with the exception of his rookie season. The current consecutive games played leader, Adrian Gonzalez, who has played in 298 consecutive games, is already suffering decreased performance and fatigue, and will be given some days off during the second half of the season. Once he takes a game off, Ripken's record will be safe for the next 15 years for sure, and unless doctors come up with some sort of incredible medical advancements, likely many more after that. Unrelated: Ripken is also the career leader in double plays grounded into. You can impress your friends with that gem.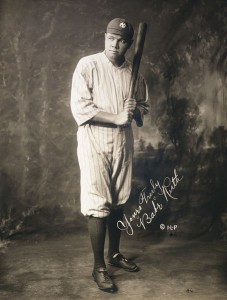 .6898, 1.1638 – Career Slugging Percentage, Career On-Base Plus Slugging, Babe Ruth, Status: Safe until the second live-ball era – Both of these numbers are almost .05 higher than his nearest competitor. Ruth played in an era when run-scoring was similar to that of the steroid era of the 90s-00s, and a lot of his best seasons were comparable to Barry Bonds'. In fact, Bonds and Ruth are the only two players to ever have a single season OPS over 1.300. Unless there's a second steroid era, or they move all the fences in about 30 feet, its unlikely we'll ever see anyone come close to doing what Ruth did during his career.
.366 – Career Batting Average, Ty Cobb, Status: Safe for now – Cobb played at around the same time as Ruth, so long ago that it's not even known exactly what his batting average was. No one has even gotten within .010 of his career batting average mark, and the closest active player is Albert Pujols at .334. To match Cobb, Pujols would have to hit almost .400 for the remainder of his career, and while he's turning out to be the great steroid-free hitter of this era, its doubtful he'll do so. The only chance for someone else to get to .366 would be a shift in playing style to one similar to that when Cobb played, something that won't happen any time in the near future.
4256, 3562 – Career Hits, Games Played, Pete Rose, Status: Safe for now – These two records define longevity. Rose was never known for his talent or athleticism, but more than made up for it with hard work and competitive fire, earning himself the nickname "Charlie Hustle". He played 24 seasons at a relatively consistent level, and although he's nowhere near the top ten in hits per game, the shear number of games he participated in allowed him to break Ty Cobb's record of 4,189 hits and go on to end his career with 4256. For someone to come along and pass Rose in the hits department, they would have to play a lot of games, and that's something that doesn't happen as much anymore. Right now, Alex Rodriguez is actually ahead of where Rose was when he was 33, but it's unlikely that A-Rod will play until he's 45 like Rose did. Players make so much money these days that there's really no reason for them to play that long and until another great player comes along that decides to play 25 seasons, Rose's records will stand.
1406 – Career Stolen Bases, Rickey Henderson, Status: Untouchable – Rickey Henderson is the only player to ever steal 1000 bases in his career. When he got to 1000, he decided to steal 406 more and set a record that will never be broken. There aren't a lot of guys stealing bases regularly anymore, and no one is doing it like Henderson did during his career. He led the league in steals 12 times and stole over 100 bags in three different seasons. These days, even the guys who are capable of stealing 50 or more bases in a year only do it a few times in their careers. If any active player has a chance at the stolen base record, it's Carl Crawford, who's on pace to steal 80+ this year. But, can he keep it up for the next 10-15 years? Probably not.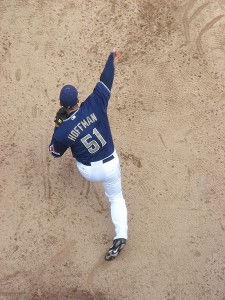 575 – Career Saves, Trevor Hoffman, Status: At risk – Hoffman is the all-time saves leader with 575. Mariano Rivera is hot on his tail at 510, and because the closer position is something relatively new (hence the reason saves weren't made an official statistic until 1969) it is likely that Rivera, or someone in the next 20 years will pass up Hoffman upon his retirement. Francisco Rodriguez is a good candidate. He already has 230 career saves, despite being only 27. It will be interesting to see future closers make a run at Hoffman's record in the next 20-40 years.
309 – Career Triples, Sam Crawford, Status: Safe for now – I'd never heard of Sam Crawford before I started to research this record, but "Wahoo Sam" is about as good a nickname as you could possibly end up with. He played in the early 20th century, when triples were much more common than they are today and there were far fewer home runs (in fact, Crawford led the league in home runs with 7 in 1908). To reach 309 triples in a career, you'd have to steal more than 20 per season in a 15-year career. There are only three active players (Curtis Granderson, Christian Guzman, Jimmy Rollins) who have had a 20-triple season, and none of them have done it more than once. So, like a lot of these records, this one will be safe unless they push back the outfield fences to 480 feet a la Polo Grounds.
2558, 688 – Career Bases on Balls, Career Intentional Bases on Balls, Barry Bonds, Status: Performance enhanced – Everything about Bonds' 2001-2004 run was unnatural, and the stats do nothing but prove that something fishy was going on. Even for a guy that had been a great player for over a decade previously, the way he was dominating during those few years should drawn red flags. On top of the likely drug use, he played on a sub-par team, which led to walks galore. Those interested in the scandal can read the full article here. When Bonds was putting up Ruthian numbers during those few years, teams got smart, decided they'd just rather have him go stand on first base and let Jeff Kent ground into a double play, and so the walks began. During his career Bonds was walked 2558 times. Even more impressive: 688 of those were intentional, more than twice the number of intentional walks that any other player has received. While its possible someone will come along and end up with more walks than Bonds, his mark of 688 free passes will likely stand forever as a reminder of the steroid era in baseball.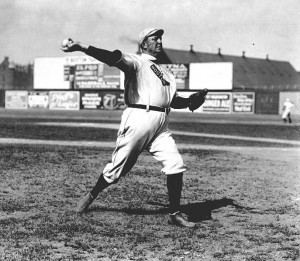 511, 749 – Career Wins, Career Compete Games, Cy Young, Status: Eternal – Young pitched in the dead-ball era, where run-scoring was as low as it has ever been and it was not uncommon for pitchers to win upwards of 30 games in a season. That would diminish his numbers, if not for the fact that he has almost 100 wins more than Walter Johnson, who was from the same era and is second on the all-time wins list. In an era when pitchers were dominant, Young was the best of the bunch, and over his 22-year career accumulated arguably the most impressive statistics of any pitcher in baseball history. Both of these records are safe because of the differences in the way pitchers are managed now. Guys get fewer starts in general, which leads to lower win totals for even the best pitchers. There have been talks that Randy Johnson may be the last 300 game winner ever, so its difficult to imagine anyone even approaching 500 victories and Young's record of 749 complete games is probably even more untouchable considering there are only 2 active pitchers with more than 50 career CGs.
5714 – Career Strikeouts, Nolan Ryan, Status: At risk if Randy Johnson Plays 'til he's 52 – Here again we've got a guy who pitched at an incredible level over a lengthy career. In 27 seasons, Ryan amassed 5714 strikeouts and Randy Johnson (4869) is the closest anyone has gotten and unless The Big Unit decides to keep trotting out to the mound every fifth day for a few more years, its unlikely any future pitcher will play for long enough and be dominant enough to encroach on Ryan's territory. You can't explain this one away with an playing-style difference either. Ryan had nasty stuff, and that's all there is to it.
There you have it. We looked at 11 players who hold significant records and determined whether or not their marks are likely to be surpassed. Think I'm totally wrong or left out something important? Let us know in the comments.