As an American sportswriter contributing stories for an American-based sports website, it is not very often that I have the opportunity to write anything about soccer, a sport known as football in practically every country not called the United States of America.  Even though soccer is one of the most popular sports played by American youths, those of us who bleed red, white, and blue don't typically follow through on the sport very long.  While Major League Soccer has given Americans the opportunity to have a professional soccer league of our own, the MLS falls behind even the mismanaged National Hockey League in terms of popularity.  As a result, the average American has a soccer experience comparable to their experience with the Summer or Winter Olympics; every four years, they notice that there's a good deal of TV coverage of this otherwise overlooked sport.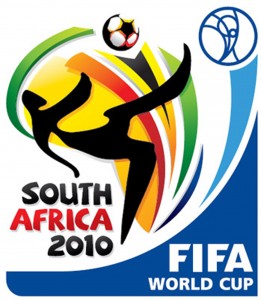 I will not try to claim any deep level of soccer knowledge, because even though I do my research when the World Cup comes along, I am information-deficient about the workings of the various leagues around the world or even the specific ins-and-outs of the qualifying stages leading up to the World Cup itself.  My picks for the teams coming out of the Group Stage at this year's 2010 FIFA World Cup in South Africa were certainly reflective of my limited engagement with the sport as well; in other words, they didn't go all that well.  That said, it's hard to deny the appeal of the action provided by this year's World Cup so far, and one of the best ways to build up a true American audience for the sport is to continue to exhibit the sport played at the highest level.
Even though my Group Stage picks lacked that "highest level" form that I've just spoken of, the Group Stage can be difficult to figure out due to the tie-breakers and various situations that arise in the three games.  With the Knockout Round of 16 at the World Cup, all of these tie-breakers go away; you win the game, or you go home, and even American sports fans who don't watch soccer can identify with the all-or-nothing stakes involved in the games now.
With all of that said, here are my picks and analysis of the Knockout Round of 16 matches for this year's FIFA World Cup in South Africa:
Games on Saturday, June 26th, 2010
Winning teams play each other Friday, July 2nd at 2:30PM ET.
Group A #1. Uruguay vs. Group B #2. South Korea
10:00AM ET
Uruguay were expected to make it through the Group Stage, but not too many would've expected them to earn 7 of the possible 9 points; at least, before the French team completely came unraveled.  South Korea, on the other hand, were a surprise; squeaking ahead of Greece to advance as the 2nd-place team in their group with 4 points.  Though South Korea put 5 goals in during the Group Stage, they also allowed 6; meanwhile, Uruguay put up three clean sheets while scoring 4 goals of their own.  On paper, the clear advantage goes to Uruguay; as exciting as it can be to root for the underdog, it would seem as though the Koreans have little chance of moving on to the Quarterfinals.
Prediction: Uruguay 2, South Korea 0
Group C #1. United States vs. Group D #2. Ghana
2:30PM ET
If not for some questionable calls from the referees in the Group Stage, the United States would not have needed a stoppage time goal from Landon Donovan against Algeria to move on to the next round; they would've handily taken the group.  Even with some odd calls, the U.S. team took first in Group C with 5 points, scoring 4 goals and conceding 3.  Ghana, on the other hand, stands as the only African team to advance out of the Group Stage at this first World Cup on the African continent.  They did so by picking up a win, loss, and draw with an even goal differential with 2 goals scored and conceded.  While the hopes of the host continent—and a sizable fanbase in South Africa—will be behind Ghana, the events of the United States run so far convey the sense that they may be fielding a team of destiny.  Even though Ghana might look favored on paper, I'm going to be a little bit patriotic—and perhaps a little naïve—and predict the United States going on to face the winner of Uruguay versus South Korea.
Prediction: United States 2, Ghana 1
Games on Sunday, June 27th, 2010
Winning teams play each other Saturday, July 3rd at 10:00AM ET.
Group D #1. Germany vs. Group C #2. England
10:00AM ET
It wouldn't be the Knockout Round of 16 at the World Cup without standard European powerhouses like Germany and England.  However, each nation's performance at the 2010 World Cup so far has raised questions about their chances of legitimately pushing to go deep into the tournament.  England was upset by an opening draw with the United States on a misplayed ball by keeper Robert Green and only managed a draw and a one-goal win to wrap up the Group Stage, good enough for second place in the group.  Germany, on the other hand, started off very strong with a 4-0 win over Australia and then fell apart in a 1-0 loss to Serbia; a team now eliminated from the World Cup.  It took a one-goal win over Ghana in the final Group D match for Germany to take first place in the group.  Though neither team was particularly impressive in the Group Stage, the complexion of the game changes considerably in the Knockout Round of 16.  Expect both teams to come out playing hard—fighting to defend their pride as elite members of the soccer world—but I'm going to give the nod in this match-up to a younger, fresher German squad.
Prediction: Germany 2, England 1
Group B #1. Argentina vs. Group A #2. Mexico
2:30PM ET
Argentina, a clear powerhouse heading into the World Cup, easily took the win for Group B by racking up 3 wins in as many games for 9 points; they scored 7 goals along the way while conceding a single goal in a 4-1 win over South Korea.  Mexico, on the other hand, were expected to contend in Group A and were able to do so but not truly as predicted when the French decided to concede the entire tournament.  Mexico only picked up 4 points to tie with the host Republic of South Africa, advancing based on goals scored in the Group Stage.  Given each team's results so far at the World Cup, the clear advantage would go to Argentina; and, as much as the mental image of coach Diego Maradona celebrating a World Cup win by running naked through Buenos Aires makes my mind's eye scream in horror, it's hard to imagine Argentina being kept out of the Quarterfinals.  By my predictions, expect to see Argentina and Germany playing each other in the next round.
Prediction: Argentina 3, Mexico 1
Games on Monday, June 28th, 2010
Winning teams play each other Friday, July 2nd at 10:00AM ET.
Group E #1. Netherlands vs. Group F #2. Slovakia
10:00AM ET
Netherlands also put together a 9-point run through Group E in the Group Stage by picking up victories against Denmark (2-0), Japan (1-0) and Cameroon (2-1).  The Dutch are proving to be a strong team in the tournament, conceding only a single goal in mop-up action against Cameroon to end the Group Stage.  Possibly the most improbable advancing team from the Group Stage has to be Slovakia, who move on as 2nd-place finishers from Group F; faced with a must-win game against defending World Cup champion Italy, Slovakia put up an impressive 3-2 victory to achieve their first-ever win at the World Cup Finals and move into the Knockout Round of 16.  While they looked out-manned in a 2-0 loss to Group F winner Paraguay, Slovakia did just enough to move on and rally their fans to continue the run.  Unfortunately, everything seems to be against Slovakia's chances of moving on to the Quarterfinals, as the Netherlands will provide a strong challenge.  While Slovakia defeated Italy, it was clear that the Italians were in disarray; such fortune will likely not shine again for the major underdogs in this match.
Prediction: Netherlands 2, Slovakia 0
Group G #1. Brazil vs. Group H #2. Chile
2:30PM ET
It's never a good bet to pick against the Brazilians, and few expected that they would have difficulty advancing from Group G in the #1 position; even if the group earned the infamous "Group of Death" distinction thanks to the presence of Brazil, Portugal, and the Ivory Coast.  Though Brazil's 2-1 win over group patsy North Korea was anything but convincing, they bounced back for a 3-1 victory over the Ivory Coast and wrapped up the Group Stage with a passive 0-0 draw with Portugal to claim the group win.  On the other side of the match-up, Chile began the Group Stage with back-to-back 1-0 victories over group patsies Switzerland and Honduras before losing to eventual Group H winner Spain (2-1) in the final group match.  That loss put Chile in second position for the group and sent them to an unenviable match-up with Brazil in the Knockout Round of 16.  While Chile showed their dominance over lesser opponents, their game against Spain showed that the team may be out-matched by the greater soccer powers.  Chile did their fans proud by emerging from the Group Stage, but it may be all for naught as they face the most successful nation in World Cup history: Brazil.
Prediction: Brazil 3, Chile 0
Games on Tuesday, June 29th, 2010
Winning teams play each other Saturday, July 3rd at 2:30PM ET.
Group F #1. Paraguay vs. Group E #2. Japan
10:00AM ET
Paraguay was expected, just like Mexico, to be competitive in Group F and many slotted them to leave the group as 2nd-place finishers behind Italy.  Thanks to solid play and a poor performance from Italy, however, Paraguay instead finished at the top of the group and in a strong position to receive a favorable draw in the Knockout Round of 16.  On the other hand, Japan would have to have been considered a long shot to advance out of Group E; that is, until they put together strong showings in the Group Stage with two wins (1-0 over Cameroon, 3-1 over Denmark) and a lone loss to the Netherlands (1-0) who ended up winning the group.  Japan looked particularly good in their win over Denmark in what was essentially a "knockout" game at the Group Stage, which bodes well for them moving on.  While Paraguay would seem to be the favorites on paper, I'm going to go out on a limb to some degree here and predict an unlikely Japanese run through to the Quarterfinals.  The Japanese team have impressed so far, while Paraguay—to some degree—won their group by default thanks to what was essentially an Italian no-show.
Prediction: Japan 3, Paraguay 2.
Group H #1. Spain vs. Group G #2. Portugal
2:30PM ET
Spain came into the World Cup as the second-ranked country in the world but were surprised in their first group match with a 1-0 loss to Switzerland.  Thankfully for the Spanish team, they turned around with consecutive wins against Honduras (2-0) and Chile (2-1) to emerge atop the Group H standings by the goals-scored tiebreaker over Chile.  Their opponent, Portugal, was never assured of advancing from the "Group of Death" before the World Cup started, but the team was considered a contender for second place in the group with the tough Ivory Coast squad.  However, a ground-out 0-0 draw with the Ivory Coast was followed up by an explosive 7-0 dismantling of North Korea, providing Portugal with the cushion they needed to go into their final group stage needing only a draw with Brazil which they easily earned.  Perhaps the most surprising statistic of Portugal's World Cup is that they've yet to concede a goal, despite having to play both Brazil and Ivory Coast.  This sets up a meeting between geographic rivals in the Knockout Round of 16, and a match which should not be lacking in strong play.  At the end of the day, however, the Spanish team is based around multiple stars while Portugal is built around a single player: Cristiano Ronaldo.  It should be an exciting match, but expect Spain to take the decision.
Prediction: Spain 2, Portugal 1.
Of course, given my admittedly-poor skill at World Cup predictions—I only correctly picked both advancing teams and their exact placements from Groups G and H—none of these Knockout Round of 16 predictions could be anywhere close to what will actually happen.  So, the only way for you to see the results for certain will be to watch the FIFA 2010 World Cup action from Saturday, June 26th through Tuesday, June 29th to find out which countries will advance to the Quarterfinals!
Feel free to weigh in on these matches—or just let me know how wrong my predictions are—in the comments below!