Now that the 2010 NFL Draft has come and gone, and cricket season is coming (along with the cricket betting involved), sports writers and other experts have set forth grading each team's drafts and judging this year's top picks.  While opinions vary across the board, one point has been made clear by fans of the National Football League: the 25th pick of the draft, former Florida Gators and new Denver Broncos quarterback Tim Tebow, is already a favorite.  Despite the fact that Tebow will likely begin his NFL career as a third-string player–behind incumbent starter Kyle Orton and new trade acquisition Brady Quinn–his #15 Broncos jersey was the #1-selling NFL jersey in the month of April 2010, and set records for the highest-selling draft jersey in NFL history.  Even Donovan McNabb's high-profile trade to the Washington Redskins–a former franchise quarterback with a Super Bowl appearance and 11 years of NFL service–was only exciting enough to make #2 on the list.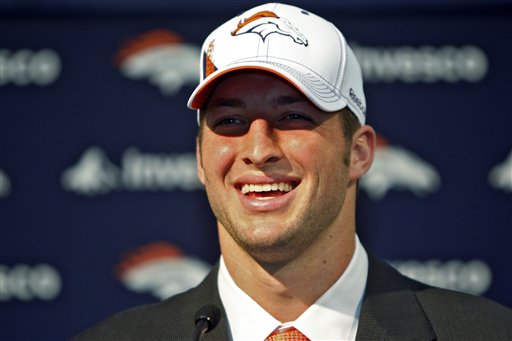 In some ways, perhaps we all should have seen this coming.  Even though all of the draft experts were focused on how Tebow's mechanics wouldn't translate to successful quarterback play at the NFL level, and even though most of those same experts cautioned that teams shouldn't use anything more than a 3rd or 4th round pick to take him, somehow it seemed inevitable that Tebow would end up being the subject of a 1st round draft wager.  Even though of the top four quarterback prospects in the draft class–Tebow, Sam Bradford, Jimmy Clausen, and Colt McCoy–Tebow was generally seen as the biggest risk, perhaps it shouldn't be surprising that only Bradford was selected before "Tim Terrific".
Few players in recent NFL Draft memory have been anywhere near as polarizing as Florida's former QB.  Those who herald Tebow as a future NFL superstar point to his gaudy statistics for the Gators, 2007 Heisman Trophy victory, and his key role playing on national championship teams in 2006 and 2008.  Those who argue against his viability for the professional level criticize the college spread option offense that he became accustomed to at Florida and his non-traditional throwing motion as fundamental flaws that cannot be broken.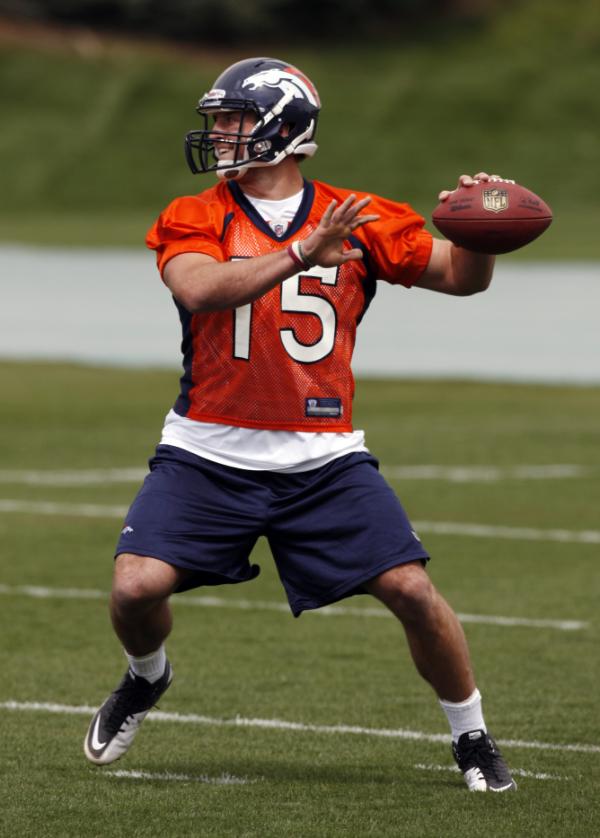 Yet the NFL is a league where the 2007 NFL Draft saw the Oakland Raiders blow a #1 overall pick on JaMarcus Russell of LSU–who has been universally labeled one of the biggest busts in draft history but has finally been cut from the roster–despite Russell not achieving anywhere near the same level of NCAA success as Tebow.  This is why Broncos head coach Josh McDaniels–a young mind lauded for his ability to build upon the talent of quarterbacks like Tom Brady and Matt Cassell from his years as offensive coordinator with the New England Patriots–has essentially staked his reputation as an NFL coach on the new #15.
McDaniels himself is an interesting case study in fan perception, as he began his coaching tenure in Denver in the summer of 2009 by trading starting quarterback Jay Cutler to the Chicago Bears in exchange for putting Kyle Orton under center.  The move was loudly contested at first, with Denver fans angered at the cavalier attitude of their new coach, but once the Broncos rattled off a 6-0 record to begin the season, fans hopped on board and praised his gutsiness.  Of course, a post-"Bye"-week tailspin saw the Broncos fall out of 1st place in the AFC West and all the way down to an 8-8 record leaving them out of the playoffs.  Worse still, the Broncos' best receiving target–Brandon Marshall–found himself on the outs with his new coach and ended up traded to the Miami Dolphins this offseason.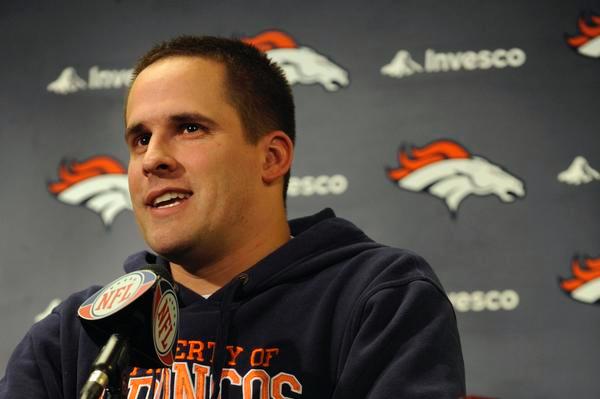 Perhaps this is why McDaniels was willing to trade away draft picks from the 2nd, 3rd, and 4th round of this year's deep rookie class for the opportunity to get back into the 1st round and take Tebow.  McDaniels was a celebrated coordinator with the Patriots, viewed as the architect of the record-setting 2007 New England Patriots season.  Tebow has been hailed by some as one of the greatest college football players ever, putting up 88 touchdown passes to only 16 interceptions with 57 rushing touchdowns as well.  But the jury is still out on whether either will be able to establish legitimate success at the professional level.
The reality is–whether they claim to love or hate Tebow–that just about anybody who is a fan of the National Football League is intrigued about whether or not he can be a legitimate star at this level.  It is this intrigue–along with a rabid Florida Gator following–that is working to open the wallets of American football fans to purchase the new blue and orange jersey with "TEBOW 15" on the back.  Twenty-one teams were unwilling to take the risk with Tebow–including teams with legitimate future quarterback needs like the Seattle Seahawks (who are taking a risk with new backup Charlie Whitehurst) and Buffalo Bills (who fielded Trent Edwards, Ryan Fitzpatrick, and Brian Brohm in a disappointing 2009 campaign)–but McDaniels pulled the trigger on the selection, despite returning Orton as the front-runner and adding Quinn (himself a 22nd overall pick in the 1st round of the 2007 NFL Draft) as a legitimate competitor for playing time.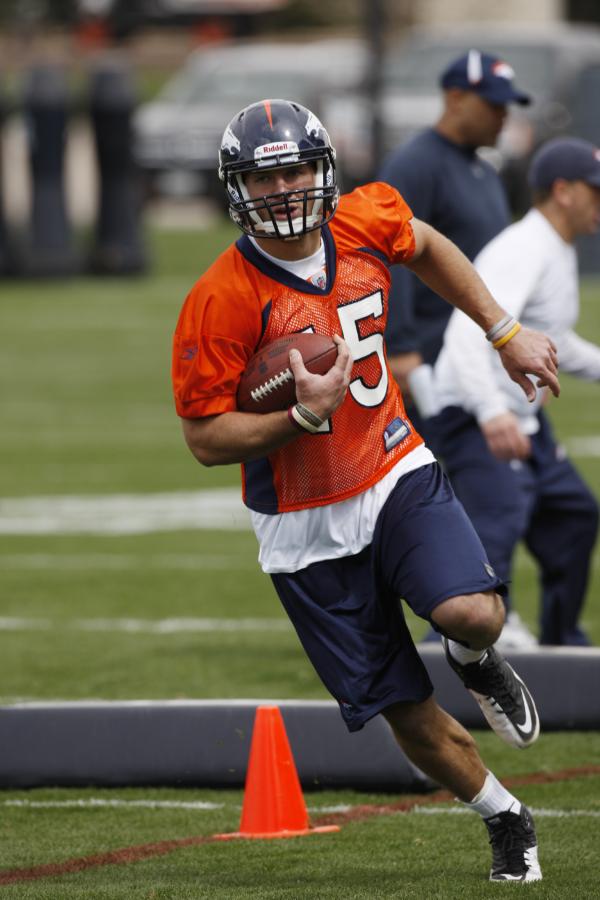 And this situation–while unenviable for Orton and Quinn, who have to be concerned about McDaniels' open excitement with Tebow–gives both Tebow and the Broncos the best chance to succeed in the future.  With two quarterbacks who can at least compete at the NFL level–Orton more so than Quinn, at least based on Brady's experience with the Cleveland Browns–Tebow is free from any immediate pressure to step in at INVESCO Field at Mile High and lead Denver to victory.  Should Orton falter, Quinn will get the second chance at the NFL that seemed assured when he was initially traded out of Cleveland and McDaniels can work with his quarterbacks of today while simultaneously grooming the player he sees as a franchise quarterback in a few years down the road.  Given the popularity of the "Wildcat" offense–known as "Wild Horses" for the Broncos–Tebow can also get some spot experience in much the same way that the Philadelphia Eagles have used Michael Vick.
Some years down the road, McDaniels will make the call on Tebow and decide that it is time for him to legitimately compete for the starting quarterback job in Denver, and at that point the gamble will be open for judging.  If he blossoms into an NFL superstar, all of the "early adopters" sporting the jersey of a player who might not see a single snap this season will be rewarded for their investment.  If he should end up incapable of handling the professional level of play, Tebow will simply join the list of players like Kyle Boller (19th overall in 2003), David Carr (1st overall in 2002) and Joey Harrington (3rd overall in 2002) who weren't worth the risk.  So long as the Broncos can keep a viable alternative on the roster if Tebow busts–for example, Tom Brandstater, whose potential has been favorably compared to McDaniels' former quarterback Tom Brady–they'll be able to absorb most of the blow.  Whether McDaniels or Tebow will be able to maintain their positions in the NFL will be entirely up for grabs at that point in time.
One thing is almost 100% certain right now, however; when the Denver Broncos visit Jacksonville Municipal Stadium to take on the Jaguars in Week 1 of the 2010 NFL Regular Season, there's a good chance that it will be the Jaguars' most anticipated and well-attended game in years.  This will be due in large part to Tebow's heroic status in the state of Florida.
It won't be a stretch to think that the majority of the fans in the crowd that September afternoon will be sporting the #15 jersey of the visiting team; a #15 who may end up watching that game just like his fans in the stands.

Loading ...

Loading ...

Loading ...