Ridiculous Jon Gruden Quotes Archive: 2011 Part 1, 2011 Part 2, 2012 Part 1, 2012 Part 2
We're back for this year's installment of Ridiculous Jon Gruden Quotes. As always, there's a chance Gruden could leave the MNF booth for a coaching job this offseason, so enjoy it while it lasts:
On Ravens nose tackle Brandon Williams: "He's so big, you can watch a movie on his back!"
"Tyrod Taylor will be a household name soon."
I don't think so, Jon.
"I've never understood the rules, Mike."
"NC2A"
Just say N-C-A-A, people. Same number of syllables.
"Sacking Ben Roethlisberger is like sacking an oak tree."
I've never sacked an oak tree, but I'll take his word for it.
"These defenses have a lot of junk in their trunk."
"He's a surgeon. He'll shred ya."
That is not something I want from my surgeon.
"Sluggo seam, it's like getting a beignet, it's so popular."
"They're the Big Bad Wolves – Richardson, Wilkerson, Coples – and they'll blow your house down."
"The Colts are luckier than a dog with 14 bones in a bucket to have this kid."
On Earl Thomas: "That's why I named him The Road Runner, Mike, because if he catches you, you're though."
Jon must not've watched a lot of Looney Toons growing up.
"I'm the same thing for Halloween every year. I'm Chucky. 14 years in a row."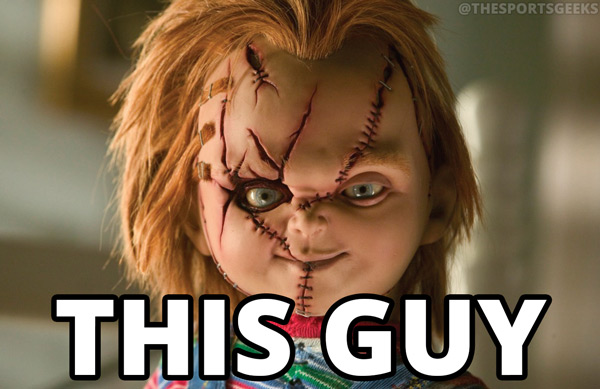 "I worked with Trestman way back when… I don't know where".
"Ultra high-speed slo-mo."
"Fadeaway sidearm slash."
"I really think Grimes could be an Olympian acrobat."
"I really like the way Mark Barron plays… The Red Baron, I like to call him."
Making up nicknames has become one of Gruden's favorite pastimes.
"Bunch crunch."
Is this a cereal or candy bar?
"It's the penthouse or the outhouse. Trust me, I got to the outhouse fast after a very short stay in the penthouse."
"No wonder he twittered."
"Patrick Willis just said, 'Hello Helu!'"
"I don't think Drew Brees even has a pulse right now."
That's not good.
On Drew Brees and Russell Wilson: "They're tough as that $3 steak you bought me last night."
He talks with his eyeballs.
WHOA
"Reggie Bush said he's never seen such big holes."
We strive to be a family-friendly blog, so I'll leave this one alone.
On Ravens kicker Justin Tucker: "He doesn't just make 'em, he hits majestic shots."
"We're never going to know until we find out."
This is generally how things work.
"Kaepernick looks like he's seeing ghosts a little bit back here, Mike."
"I call that BYOB: be your own blocker."
"You're really good on that telestrator. You could be the weatherman if you wanted to."
"Matthew Stafford has his own fundamentals."
This is another way of saying he has no fundamentals.
"There's a beautiful banana."
See you next year, Gruden!