Welcome to year two of Ridiculous Jon Gruden Quotes here at The Sports Geeks. THIS GUY was worried in the offseason when Gruden was rumored to be looking at a few head coaching jobs that would've taken him out of the booth. Thankfully, he's still around (without that meddling party-pooper Jaws) and as quotable as ever.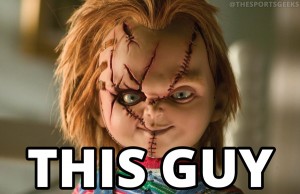 If you missed last year's quote compilations, they're worth checking out (here and here). Also, tweet us if you catch any good quotes or nonsense from Chucky during the rest of the season. Without further ado (these are in roughly-chronological order):
"Keep your eyes on a swivel."
Tongue-tied already.
"Not enough penetration to get off."
Our first double entendre.
"How old were you when you were 17?"
"These refs are worse than backups. It's like taking a team of 6th-round draft picks and using them as your starters."
Okay, this one is actually insightful.
"Boy, these rules are confusing."
Later in the same game: "All these rules are confusing me."
On Michael Turner: "I call this guy 'Road Rage' because he makes some of the most violent runs in football."
He actually did use this nickname last year.
After a nice catch by Demaryius Thomas: "That's one of the greatest tap dances I have ever seen."
Little known fact: Gruden is a HUGE tap dancing fan.
"Ultra high-speed slow-mo"
"3rd and Tacoma"
"I want Richard Sherman grinding on my receivers."
"Pass interference calls should call themselves."
Makes sense.
"Seattle's gonna need to find some Skittles to feed this beast Marshawn Lynch."
"I'm 'bout to jump out the press box on that call."
"There's no way Green Bay should fly 6,000 miles home after a game like this."
The game was in Seattle. Someone needs a geography lesson.
VIDEO BREAK (God Bless Texas)
"Those little catches, I like to call those blue gills 'cause they add up at the end of the night."
"I call it the turkey hole in between the corner and the safety."
On Gary Kubiak's play card: "Look at the size of that menu."
"This is J.J. Watt. I don't know how many Watts are in his energy source."
More on Watt: "They call him the milkman, because he's from Wisconsisn and the milkman always delivers."
On Nick Mangold: "He's genetically different from most people."
"Andre Revis"
"It's like a symphony on the backside."
"Tebow might be in the bullpen tonight." AND "Gary Kubiak is going to the bullpen."
Not one, but two bullpen references.
"We can save ourselves a lot of time by eliminating some of these rules."
The campaign against rules continues.
"Peyton Manning has eyes in the back of his head."
On Charles Tillman: "He has a Ph.D in Bears defense."
"He put his hat in the crack right there."
Presented without context.
"Here comes the beef!"
"I get goosebumps watching guys go after each other like this."
"He's a unique freak."
"I don't even know what erroneous is."
On his Halloween costume: "I'm going to be Chucky for the 14th straight year."
"Don't listen to me. That's why I'm out of the profession."
We love you, Jon.