On Thursday night, the TNT Inside the NBA crew was embarrassing Charles Barkley by showing this old shot of Barkley kissing referee Dick Bavetta after their footrace several years ago.
New analyst Shaquille O'Neal chimed in as they were heading to commercial and said, "Anybody out there who gets that tattoo, I'll give you $1000 dollars. Tweet me back with the pictures."
Whenever someone puts out a call to do something like this, there's always at least one crazy person that will come through to entertain us all. In this case, that person is Emmet Bentley. Emmet created a Twitter account yesterday and posted the photo below (as well as this other photo and a video). He's created quite a stir on Twitter, and I think I speak for everyone when I say that I hope it'll get Shaq's attention and he'll pay up.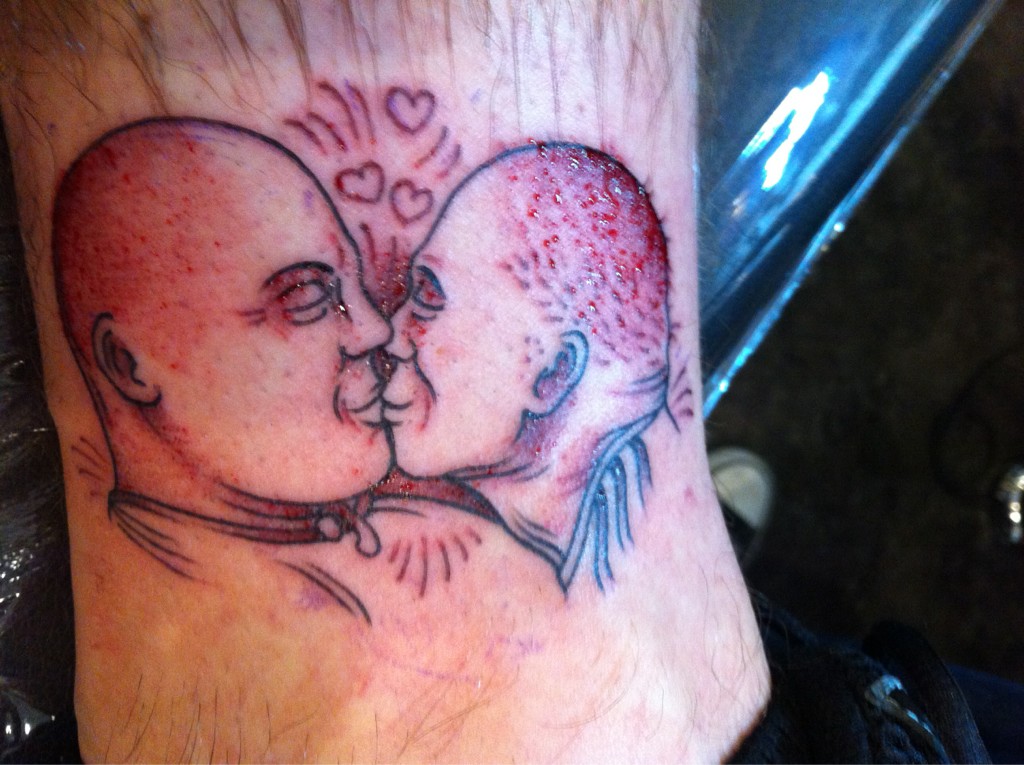 Emmet was kind enough to answer a few questions about the himself, the tattoo, and the reaction to it over email:
Tell us a little bit about yourself.
I am a full time bartender at The James Joyce in Santa Barbara, Ca. It's a kick ass Irish pub.
Who told you about this? Were you watching TNT? Big basketball/sports fan?
Friday, a friend texted me a link to the Ball Don't Lie post on Yahoo!. I don't watch much basketball, but might have to start now to see if I make it on their show!
As far as the tattoo itself. What was the reaction when you went to get it done? Do you plan on keeping it forever? Have you gotten a reaction from your family/friends?
I have a couple of ridiculous tattoos already, and this seemed pretty harmless, especially with the possibility of getting a grand from Shaq, so I was immediately into it, no second thoughts. I Facebooked the link to my tattoo artist, and he was down, so we scheduled the appointment for 2pm Saturday, and the rest is history.

I think it's really funny all the attention it's getting, I'm stoked I was the first one to respond, I'm sure I won't be the last. My Mom was kinda bummed on this idea until it made it onto Yahoo! then she appreciated my special brand of weirdness (I think). I'm definitely keeping it (can't really return this sort of thing, ya know?), the only thing I might do, when I get the money, is tattoo a big red stamp that says PAID over it.
You said on Twitter: "I've got weirder tattoos". Care to elaborate?
As far as my tattoos go, a black and white outline of two dudes kissing is minor…I've got a Jack Daniels bottle on my stomach, A.C. Slater in the style of the Slayer logo on my shin, a Unicornicopia on my back (tramp stamp) and Glenn Danzig riding a wolf-horse with the words "Fucking Majestic" on my thigh.I attached some pics from the 805 Ink artist's facebook. I guess their website is down, but if you're in Santa Barbara check out Kenny Knox, J.J. Ortiz, Chadillac, and Nate Hudak at 805 Ink for good work!
Closing thoughts?
People are talking shit on the quality of this one, but that was a fresh, bloody phone photo, it actually looks rad. Oh, and since this is a sports thing, GO STEELERS!
This has been yet another pretty fun Twitter/internet story. Thanks again to Emmet for being a good sport. He's new to Twitter so follow him up. Here's to hoping he gets paid!