Saturday's Saints-Seahawks divisional matchup ended in somewhat strange fashion. Down 8 with 13 seconds left and no timeouts, Saints wide receiver Marques Colston caught a pass from Drew Brees and instead of running out of bounds with a few seconds to spare, he did this:
The Saints were called for an illegal forward pass, and the 10-second clock runoff ended the game. The reaction was not kind:
What was Colston thinking?!? UGH.

— The Sports Geeks (@thesportsgeeks) January 12, 2014
Initially, it looked like Colston was just being stupid. There were still 5 seconds left, which was plenty of time for him to get out of bounds, and give them one more shot at the tying score. But, as we found out Monday, this was a designed throwback play by the Saints. Head coach Sean Payton said, "…it was a play we had put in a week and a half ago, prior to this game, which was a deep throw to Marques and then across the field to Cadet. So, yeah, he wasn't freelancing."
That piqued my interest so I went back and looked at the all-22 coaches tape from the game to try to figure out if it was really a called play and exactly what they were trying to do.
Pre-snap. Key players are labeled with approximate routes that each of the Saints receivers ran.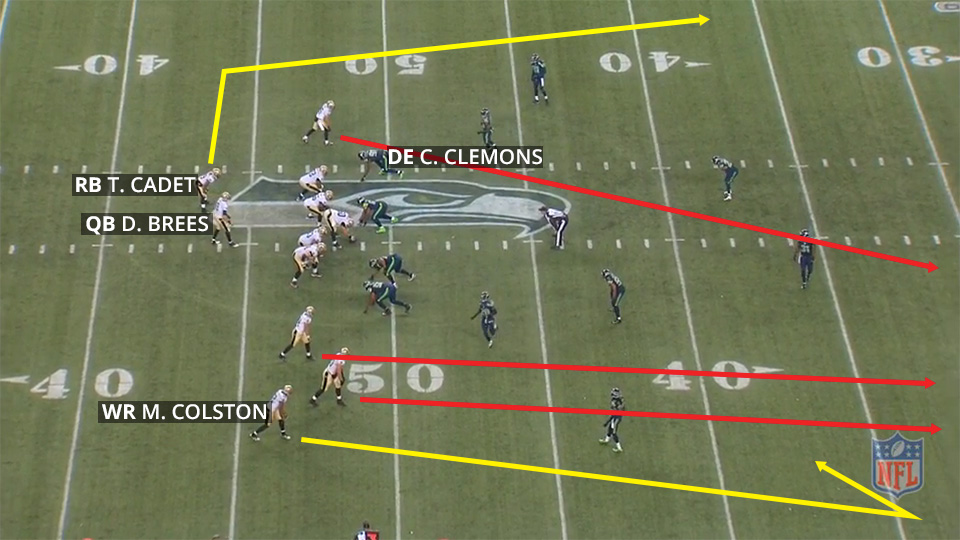 This is just as Brees throws the ball. He had to buy some time to let the receivers get downfield and was almost sacked. Meanwhile, running back Travaris Cadet has just been hanging out to Brees' left. He hasn't really run a route yet and didn't try to pass protect. My guess is they were hoping he would get forgotten by the defense at some point.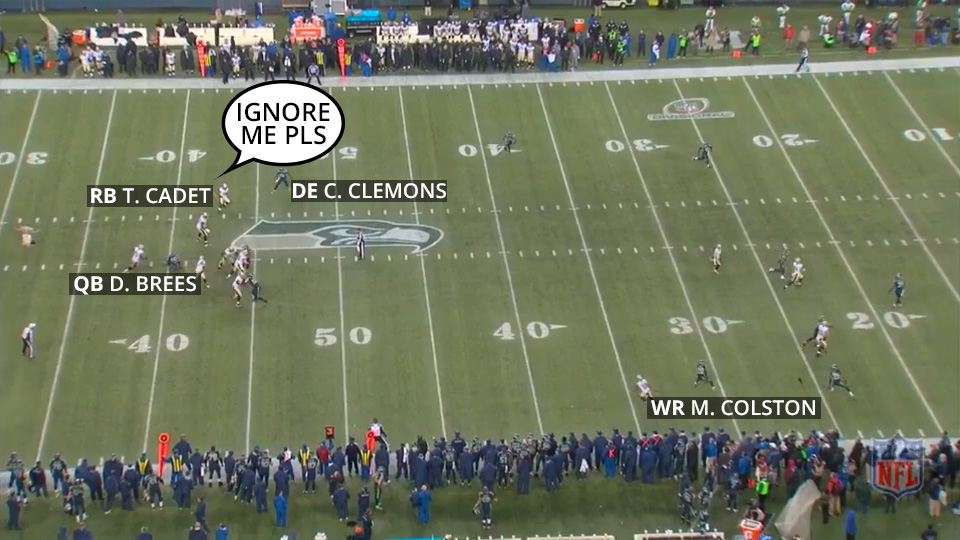 Once Colston make the catch – and everyone in America thinks he's about to duck out of bounds – Cadet starts to head downfield along the opposite sideline. Unfortunately for the Saints (1) he heads a little too far downfield leading to the illegal forward pass, and (2) defensive end Chris Clemons alertly stayed with him the whole way so that even a good throw from Colston probably would have resulted in some sort of crazy fumble.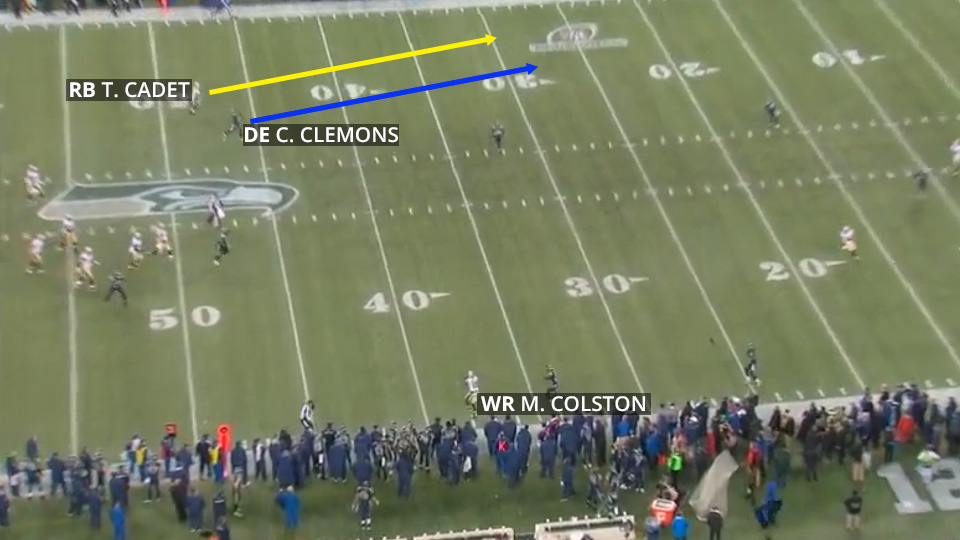 Despite my initial reaction, I like the call by Payton. I always find myself rooting for plays like this to work, so I'm disappointed they didn't convert it. The Saints needed a relative miracle to win this game. Was the chance of them scoring a last-second touchdown better on a Hail Mary with no time left or on this weird play with 13 seconds to go, when perhaps they could catch the Seahawks off-guard? We'll never know.