As I sat down to write this article, the news that Chris Paul was (again) traded had just hit and made me change up things a bit. I consulted with a few friends on what four teams from each conference would be considered the early contenders to win the NBA Finals this year and our lists were similar, and none included the Clippers. However, with Chris Paul there, I'm replacing the Spurs with the Clippers as one of four contenders out of the Western Conference. If the Spurs couldn't get out of the first round last year, then I don't like the odds an old team that is a year older going into a compacted 66 game schedule and making a deep playoff run. I could be wrong, but for now I'm not putting the Spurs in.
I'm writing this article with the contrasting sides explaining why each team will win it all and why each team won't.
Western Conference
Los Angeles Clippers
Why they'll win it – The Clippers instantly became contenders when the got Chris Paul. Blake Griffin is already one of the game's premier athletes and a rising star, and now he has arguably the league's best point guard in town which could prove to be one of the most exciting duo's in the league. Chris Paul has proven that he has the stones to take and make big shots in big games and if that isn't enough, they added battle tested champion Chauncey Billups into the mix. DeAndre Jordan provides talent and youth at the center position, and the Clippers also brought in Caron Butler to add some scoring punch from the wing. The Clippers can win it all with their mix of athleticism and veteran talent in a Western Conference that is as wide open as it has been in years.
Why they won't win it – Because they are still the Clippers. Seriously though, this team has a horrible history of bad moves and bad injuries and Chris Paul is operating with one already operated on knee. Outside of the Clipper curse, the Clippers don't appear to be a good enough defensive team to win it all. If they start both Billups and Paul, guards with size and speed will be a tough matchup and the Clippers don't have a great answer for a team with a dominating small forward. As great as the Paul trade looks to be, in a shortened season the Clippers will be forced to mesh in a hurry and winning the title in their first year together will be very hard to do.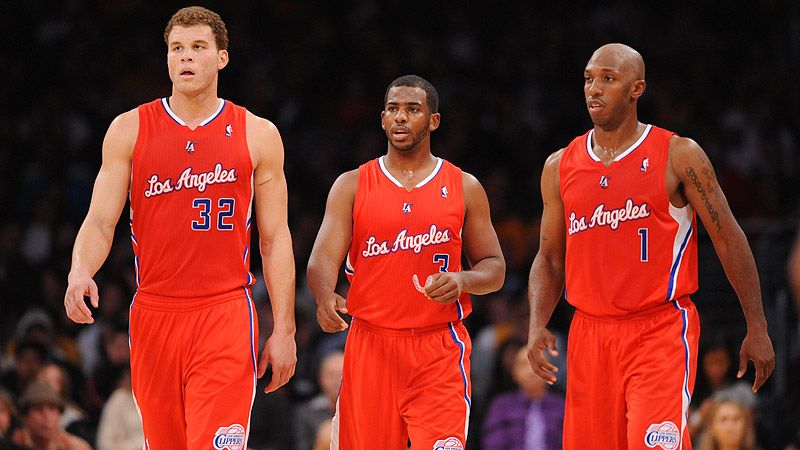 Los Angels Lakers
Why they'll win it – Kobe Bryant plays like a man on fire, fueled over last year's embarrassing playoff sweep and the now infamous vetoed Chris Paul trade. Co-stars Andrew Bynum and Pau Gasol, both of whom have as much to prove as about anyone in the league, continue to gel and provide the leagues best PF-C combo which teams simply can't match. With defenses focusing heavily on Kobe Bryant, role players will see their fair share of good looks and will overachieve to help compensate for what looks to be a rather thin bench. Despite his age, Kobe Bryant can still get any shot off at any time, and if the rumor that his overseas knee treatment was successful turn out to be true, Kobe easily has the talent to push his team to the championship.
Why they won't win it – After the vetoed Chris Paul trade, the Lakers were forced to trade away Lamar Odom and in doing so gave up part of their size advantage and big man versatility, which was a huge reason for their recent success. Their remaining size advantage lies in a player with a history of knee problems (Bynum) and a player who could easily be emotionally wrecked from knowing his team was willing to trade him (Gasol). There is also a glaring hole at point guard that the Lakers have yet to fill and they continue to have no answer for the likes of Paul, Westbrook, etc. Kobe Bryant may also be disgruntled towards the Lakers management, and with no Phil Jackson to reign him in, Kobe could revert back to his 2005-06 mentality of "me against the world". That will work out good for Kobe's PPG, but it won't result in a ring.
Oklahoma City Thunder
Why they'll win it – The Thunder feature the game's best pure scorer in Kevin Durant, have one of the best point guards in Russell Westbrook, and have a plethora of young athletic players that can play an uptempo game many teams simply can't match. The Thunder had the talent last year to go to the Finals, but the experience was still lacking. With another year under their belt, the Thunder are perfectly suited to play a compacted schedule and could push to lock up home court advantage while other teams in the conference are still adjusting to off-season roster moves. Center Kendrick Perkins, who people forget that just two years ago he was a force to be reckoned with, spent most of last season hurt but looks to back ready to go and in the best shape of his career. The Thunder's mix of youth, talent, and experience have them poised to hoist the trophy come June.
Why they won't win it – The seemingly volatile relationship between Durant and Westbrook collapses at some point this year. Westbrook was highly criticized last year (too much according to some) for his shot selection and failure to recognize that Durant is the guy who needs the ball late in games. Both players did their best to deny any sort of rift, but it seems that there is some alpha-dog competition between the two. If the Thunder lose their cohesiveness and resort to individual basketball over good team play, they won't get far in the playoffs.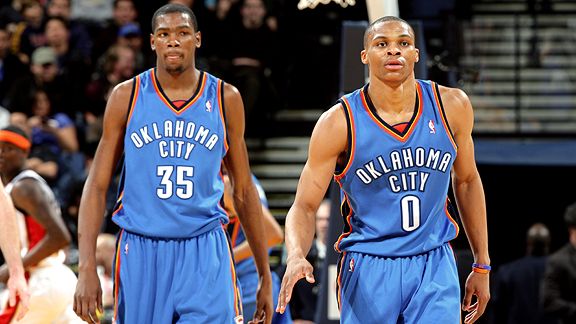 Dallas Mavericks
Why they'll win it – The defending champion Mavericks still have Dirk Nowitzki on the roster and if he catches fire like he did during the playoffs last year, there isn't a player in the league that can stop him. The Mavericks lost several key players from last year's championship season, but brought in another versatile 7-footer in Lamar Odom who causes a lot of match up problems and will hope to get some offensive punch out of Vince Carter. Dallas will again be one of the most experienced teams in the league, with their youngest current starter being 32 years old and they know what it takes to win the title. If the Mavericks are able to pace themselves during the regular season and keep their old veterans relatively rested, they will be sitting nicely come playoff time to make another run at the crown.
Why they won't win it – An optimist calls it experience, a pessimist calls it age. This team is old and lost several of their key younger players, like JJ Barea, who provided some youth and energy off the bench. Sure, the Lamar Odom pickup is big but it doesn't make up for the loss of Tyson Chandler. Chandler was the second biggest player in the finals behind Dirk and was a defensive force around the basket. Odom brings a different skill set but defense around the rim is not one of them. The Mavericks will struggle to keep up with younger teams and without a physical presence below the rim will have trouble keeping teams out of the paint.
Eastern Conference
Chicago Bulls
Why they'll win it – Last year's MVP Derrick Rose will take the lessons he learned in the Eastern Conference Finals loss last year to drive him to an even higher level of performance. Chicago was consistently ranked at or near the top in terms of team defense last year and that defense can drive them deep into the postseason and onto the Finals this year. The addition of veteran scorer Rip Hamilton will give them a much needed scoring threat from the wing while big men Joakim Noah, Omer Asik, and Carlos Boozer provide plenty of size and talent around the rim. The Bulls kept the core of their roster in tack during the offseason which means they should get off to a quick start this year not having to work out the bugs that typically come with roster shake-ups.
Why they won't win it – The Bulls are too one dimensional on offense and if Rose has an off night, the team has little chance of overcoming it. While the addition of Rip Hamilton should help that, Hamilton provides no response on the defensive end if he has to guard bigger shooting guards and small forwards, which the Eastern Conference is full of. Rose's slashing and driving game is well suited for the regular season, but when teams begin to clamp down on defense in the playoffs and the refs don't call fouls around the hoop like they do in the regular season, Chicago can struggle to put up points.
Miami Heat
Why they'll win it – The big three and the rest of the core of the Miami Heat have had a year to play together and feature two of the leagues three top players, and another top twenty guy in Chris Bosh. Surprisingly enough, defense was their staple for winning games and they signed a defensive minded veteran in Shane Battier. Add a steadily improving Joel Anthony to the mix along with a healthy Udonis Haslem, and Miami should be one of the leagues best defensive teams once again. LeBron had a less than pedestrian Finals last year, but showed in the prior two series that he is more than capable of dominating the game on both ends of the floor. Few teams can match the size and speed of Miami, and considering they should be a more cohesive unit this year, they are the odds on favorite to win the title.
Why they won't win it – They won't win for the same reasons they didn't last year. The Heat struggled to find their late game identity and that haunted them in the Finals. Neither Wade or James are great off the ball players at this point and with only one ball to go around, the Heat offense can sometimes crumble into one on one basketball. The pressure this year is arguably greater than it was in the last, and if LeBron and company can't overcome it, they'll be destined for another year of being on the wrong end of a championship or bust season.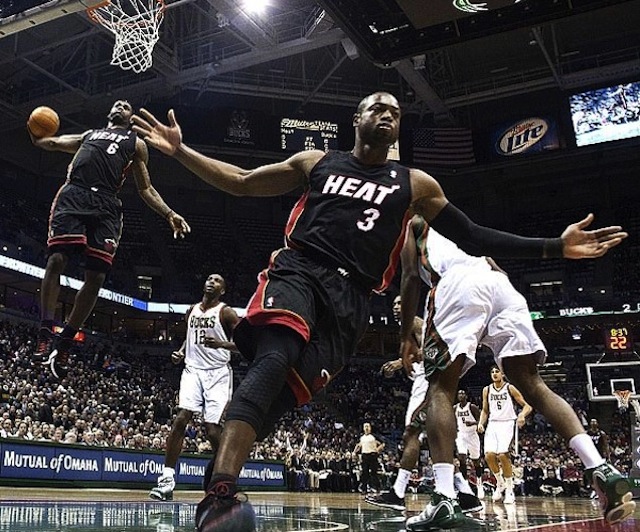 New York Knicks
Why they'll win it – The Knicks got a taste of the playoffs last year and made a huge off-season move to land defensive force Tyson Chandler. The Knicks have plenty of offensive firepower with Carmelo Anthony and Amare Stoudemire and with Chandler, they add some much needed defensive toughness. If the Knicks view guys like Rose, James, and Wade as the biggest threats to their success, having Chandler down low is huge for them. Carmelo continues to be one of the game's elite scorers and the Knicks will rely heavily on him and their new found big three to carry them. If the Knicks can get some performance from their bench players, they have the talent to take on any team in the East and make a run at the Finals.
Why they won't win it – Despite the fact that Chandler adds some much needed defense to the mix, no amount of D that he'll play will make up for the lack of D that Carmelo and Amare play. The loss of Chauncey Billups could hurt them much more than expected, and replacing him with a worn out Mike Bibby and a currently injured Baron Davis is not the answer. Currently there have been 14 roster changes to this team and you wonder how long it will take them before they get on the same page, let alone compete against the upper echelon teams.
Boston Celtics
Why they'll win it – The original big three weren't expected to make a run a the Finals for more than a few years, but through continued solid play, excellent defense, and veteran talent they are once again contenders. This is another old team that knows what it takes to win it all and are well beyond playing for personal stats and can save a lot of energy for the postseason. The Celtics also signed some solid rookies to provide some youth and brought in big men Brandon Bass and Chris Wilcox to provide some muscle down low. Rajon Rondo is one of the leagues top point guards and is a nightmare for defenses. Considering the shooters he has around him, if Rondo plays some of his best ball of his career, the Celtics could make what looks to be one last run with their current core.
Why they won't win – Like the Mavericks, the Celtics may be on the wrong side of the experience vs age pendulum. Rondo may be a great point guard, but he can be rattled surprisingly easily and he really doesn't pose an offensive threat outside of the paint which allows defenses to sag off of him and focus on the better shooters on the team. The Heat made the Celtics look old last year, adding another year of wear and tear to the Celtics won't help that at all. Considering the fact that GM Danny Ainge was ready to make some big moves in order to bring in Chris Paul makes you wonder how confident the Celtics are with their current roster.
….and then there's the Dwight Howard situation….
I didn't leave Orlando off of my top four list because I'm assuming Dwight will be traded. I'd leave them off the list even if he said he was staying in Orlando all year because I don't think the Magic have enough to handle any of the four above teams in a playoff series. Dwight is the best center in the game and the games most dominating defensive player, but his offensive game isn't great enough to carry a team in and of itself. I also would not change my above Finals prediction even if Dwight got traded. Likely the only two teams from the above list he'd go to would be the Lakers or the Bulls, but both seem to be behind the Nets in the running. Considering what both teams would have to give up in order to get him, I don't think that having Dwight Howard thrown in the mix will compensate for the problems that would come with gutting your roster to get him.
Prediction
I'm going with the same prediction that I did last year. I'll take the Miami Heat over the Oklahoma City Thunder in what should be a fantastic NBA Finals featuring some of the league's best young stars. The thing that I like most is the fact that neither of these teams rattled up their roster significantly going into the year. Both teams had the talent and pieces to win it all last year and both were stopped short of that goal by an incredibly hot shooting Dirk Nowitzki and the Dallas Mavericks. I like the Heat over the Thunder mainly because Miami plays much better defense and is one of the few teams that can keep pace with the Thunder athletically. Combine their team defense, the experience that comes with playing a full season together, and their sheer talent level and, as Vegas agrees, the Heat are the team to beat this year.