Ravens linebacker Terrell Suggs has become one of my favorite characters in the NFL. Always an entertainer, whether it's his Ball So Hard University intro, one of many hysterical interviews. Tonight he posted this rendition of "Twas the Night Before Christmas" to his Facebook page: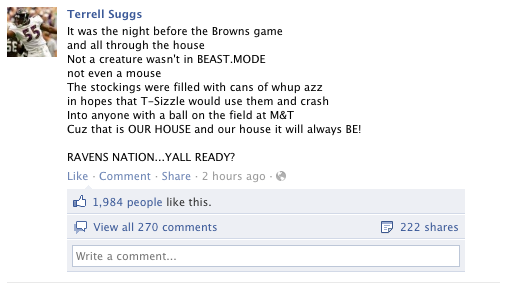 It was the night before the Browns game
and all through the house
Not a creature wasn't in BEAST.MODE
not even a mouse
The stockings were filled with cans of whup azz
in hopes that T-Sizzle would use them and crash
Into anyone with a ball on the field at M&T
Cuz that is OUR HOUSE and our house it will always BE!

RAVENS NATION…YALL READY?
Love this guy. Happy Holidays from us here at The Sports Geeks. Hope you all get to enjoy some NFL/NBA this weekend with your loved ones.