The NFL lockout has been over for a few weeks now, and I'm as happy as anyone. That being said, there are a few guys that I'm tired of hearing from/about.
Rex "ihaveprettyfeet" Ryan
This year, the Jets will look to go 0-3 in seasons where they make premature Super Bowl predictions for themselves. Rex is clearly a good coach, and the confidence is fine, but he should really shut up until they win something. You don't see the coaches that have actually won Super Bowls (Belichick, Tomlin, Shanahan, etc.) jawing about what they're going to do all the time. All he's doing is drawing unnecessary attention to his team. The Jets will get everyone's best shot this year, like a championship team would, but without actually winning a title.
<Insert foot fetish joke here> Here's him freaking out for no real reason in a preseason game.
Jerry "Hype Machine" Jones
Who's ready for gratuitous camera shots of Jerry Jones grinning in his luxury box? I don't know how he does it, but he's made himself more well-known than any other owner and most of the players in the NFL. Can you tell me who the owner of the Chargers is? Probably not. (It's Alex Spano; I had to Google it.)
As if his constant meddling in team affairs wasn't enough, we now have to hear about his mega-stadium every time the Cowboys take the field. People talk about this pile of steel as though he had personally designed every inch of it himself and built it by hand, when in reality, he (and the City of Arlington, who technically owns the place) just laid down a couple billion dollars and let architects and contractors do their jobs. Jerry, why can't you just be like all the other owners?
Brett "The Lovable Attention Whore" Favre
You knew this one was coming. The rumors have already been circulating. First it was the Eagles, then the Dolphins. It never ends.
Imagine this scenario: The Texans start out 6-3. Matt Schaub breaks his leg in their Week 10 game. They're going into the bye week with a chance to make the playoffs. Matt Leinart sucks, so guess what? IT'S FAVRE TIME. Rachel Nichols can book her flight to Hattiesburg right now.
UPDATE – As I was writing this post, rumors started circulating that the Colts were looking to possibly sign Favre since it looks like Peyton Manning will be out longer than expected. Probably not true at all, but it's clear we're well on our way to a season full of Favre speculation. Kill me now.
Joe "That Is A Disgusting Act" Buck
If asked, I'd probably say that Joe Buck is my least favorite sports television personality, which is really saying something considering I hate most of these guys. You might have noticed Joe's voice sounding more annoying than usual of late. Some call it a mysterious vocal cord virus; I call it a sign from God. I might feel bad for him if he wasn't always doing his best to be an arrogant prick. I'll never forget the Randy Moss mooning incident where he completely overreacted. The day I started hating Joe Buck:
Chris "NEW YAAAWWK FOOTBALL GIANTS" Berman
I can't watch NFL coverage on ESPN anymore because I'm sick of Chris Berman. I also can't watch the U.S. Open or the Home Run Derby for the same reason. The guy just won't shut up and he rarely contributes to discussions in any remotely meaningful way, but he's one of these tenured guys at ESPN that they just won't get rid of. RUUMMMMBBLIN, STUUMMMMBBBLIN, BUMMMBBLLIN!! Ugh.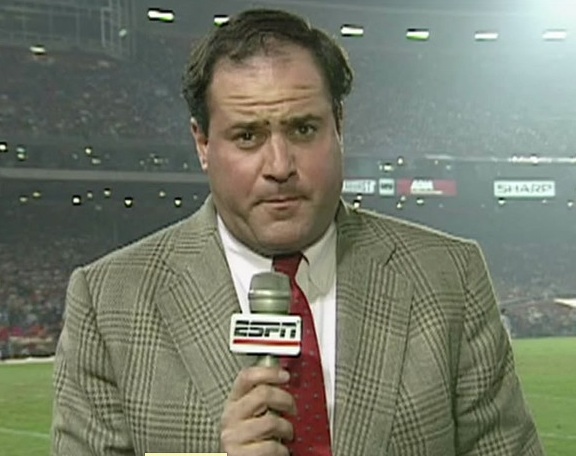 Tim "The Tebow Thing" Tebow
Let me start out by saying that I have nothing against Tebow, who is clearly a great college player, a hard worker and a good guy by all accounts. Unfortunately, he was put into a bad position by being drafted way to early to a team with an awful coach, who has since been fired, making the situation even worse. He's nowhere near the starting lineup, but we still hear about him every day.
I have been planning on writing this post for several weeks, and Tebow was always going to be on the list, but remarkably, he's been in the news even more than usual in recent weeks. Brandon Lloyd Says 'The Tebow Thing' Needs to be Sorted Out. Tebow Says the Starting QB Job Was 'Taken Away' From Him. Could the Broncos cut Tim Tebow? Tebow Is the 4th Best Quarterback at Broncos Camp. Boomer Esiason says Tebow Could Marry His Daughter, but Not Lead His Team. Make it end.
Here's to a great – and Ryan-Jones-Favre-Buck-Berman-Tebow-free – 2011 NFL season!