There are only a few hours between us and the always highly anticipated NFL Draft. For a Baltimore sports fan like myself, the Ravens' day at the draft will be a well-needed distraction from the atrocity that is the 2010 Baltimore Orioles, and I'm sure many football fans from otherwise-struggling sports towns feel the same way. Since the end of the NFL season, every eligible player has been analyzed, examined, scouted and worked-out again and again. Draft experts like Mel Kiper and Todd McShay (or is it Todd Kiper and Mel McShay? From this point on, and in all The Sports Geeks posts in the future, they'll be referred to as the McKipers to take care of any confusion), have been all over everyone's TVs, computers and radios touting the players they like and arguing over the differences in their mock drafts. Speaking of which, I did a little comparison of these mock drafts vs. the actual results, and they're pretty much useless once you get past the top 10.
Among the most disputed and featured discussions in the pre-draft frenzy is the quarterbacks. This year, the draft features 4 QBs that have been at the center of attention for the better part of their college careers. The quarterback's of any draft class have their differences, but this is a particularly diverse group:
Sam Bradford, Oklahoma – Projected to be the first overall pick. 50 TDs, 8 INTs in 2008. Some injury concerns after missing most of 2009 season.
Jimmy Clausen, Notre Dame – Arguably the most NFL-ready coming from an offensive system more closely related to that of most NFL teams. Possible arrogance/personality issues. Has had a few negative off-field incidents.
Colt McCoy, Texas – 4-year started at Texas. Heisman runner-up. Won more games than any NCAA QB Ever. But, took most snaps from shotgun. Arm strength concerns.
Tim Tebow, Florida – 3-year starter at Florida. 2 National Championships. 1 Heisman. Crazy stats, but all in non-NFL Urban Meyer offensive system. Next Alex Smith? Hopefully not.
All four of these guys will likely get drafted in the first few rounds, but chances are, more than one of them will end up on the bench or out of the league before too long, and the crazy part is, even with all the college statistic, 40 times and Wonderlic tests, there's really no way to know which one will end up riding the pine, which one will never get a real chance, which one will have a 14-year career with 6 different teams, and which one will be a 9-time Pro Bowler and Hall of Fame candidate.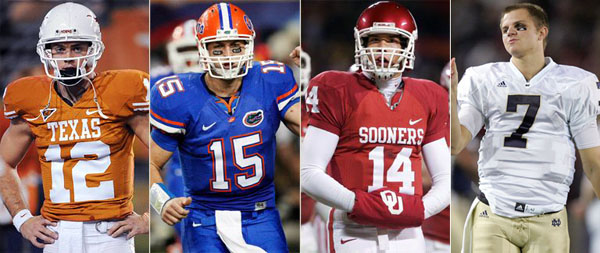 My goal with this post is to more or less prove that picking quarterbacks is nothing short of a crapshoot. The McKipers can bicker all they want, but the bottom line is, they know nothing. We're going to look at the draft results since 1994, the first year the NFL had a 7-round draft. For comparison purposes, it wouldn't make since to talk about guys drafted in the 12th round, when we stop at 7 these days. Most of those guys never got signed anyway, and as far as I'm concerned, if you don't have a Wikipedia page, you never existed. (Speaking of which, you're not supposed to write a page about yourself, so can someone hook me up?)
Of the 193 quarterbacks drafted since 1994:
23 have made at least one Pro Bowl.
3 have made 5 or more Pro Bowls (Donnovan McNabb(5), Tom Brady(5), Peyton Manning(10)).
19 have thrown 100 or more touchdown passes (a few you might not expect: Gus Ferrotte, Aaron Brooks, Brian Griese).
9 were taken with the first overall pick: Michael Vick, David Carr, Peyton Manning, Tim Couch, Alex Smith, Eli Manning, Carson Palmer, JaMarcus Russell, Matthew Stafford. Only one guy from this list (P. Manning) has become (and maintained status as, *cough*Vick*cough*) an superstar. His overpaid brother is probably the next closest one.
45 never played a minute in an NFL game (2 2nd-rounders, 2 3rds, rest are 4-7).
Of the 32 NFL starters in 2009 (those that started the most games for a given team)
18 were drafted in the first round (Peyton Manning, Jay Cutler, Aaron Rodgers, Eli Manning, Jason Campbell, Ben Roethlisberger, Joe Flacco, Philip Rivers, Carson Palmer, Matt Ryan, Donovan McNabb, Matthew Stafford, Alex Smith, Mark Sanchez, Josh Freeman, Vince Young, Brady Quinn, JaMarcus Russell)
3 were drafted in the second round (Brett Favre (though out of our post-1994 range), Drew Brees, Chad Henne)
1 were drafted in the third round (Matt Schaub)
2 were drafted in the fourth round (Kyle Orton, David Garrard)
None were drafted in the fifth round (odd bit of trivia)
3 were drafted in the sixth round (Tom Brady, Matt Hasselbeck, Marc Bulger)
2 were drafted in the seventh round (Matt Cassel, Ryan Fitzpatrick)
3 went undrafted (Tony Romo, Kurt Warner, Jake Delhomme)
Out of the the 38 quarterbacks drafted in the first round since 1994, only 18 are still in the league and though a few of those have had nice careers and have since retired, quite a few of those have not lived up to the hype. Here's a year by year look at each year's first round quarterback picks and any of interest from later rounds (This ended up being a lot longer than I expected. I won't be offended if you skim through it and read just the last paragraph):
1994 – 9 QBs taken
Heath Shuler – #3 overall, Washington Redskins – It didn't take long to find a bust. Shuler was a college standout at Tennessee, who never got it together in the pros. Played in only 29 games, going 8-14 as a starter with 15 touchdowns and 33 interceptions. Now a North Carolina Congressman.
Trent Dilfer – #6 overall, Tampa Bay Buccaneers – One time Pro Bowler and Super Bowl XXXV Champion. Played for 5 different teams. Hardly a bust, but his career was less than illustrious. Now a terrible analyst on ESPN.
Gus Frerotte – #197 overall, Washington Redskins – Made the Pro Bowl once after battling Schuler for the starting job. Played for 7 different teams. Probably most famous for headbutting a wall.

Jeff Garcia – Undrafted – Played a few years in Canada before ending up with the 49ers and going on to have a pretty successful career, including 4 Pro Bowls and a nice playoff run with the Eagles in 2006-7.
Kurt Warner – Undrafted – Without a doubt the best QB to come out of college in 1994, though no one knew it at the time. Played a few years in Arena Football before signing with the Rams. 3 Super Bowls (1 win). 4 Pro Bowls. 208 TD, 128 INT. 32,000+ passing yards.
1995 – 14 QBs taken
Steve McNair – #3 overall, Tennessee Titans – Solid career with the Titans and Ravens. 3 time Pro Bowler. MVP in 2003.
Kerry Collins – #5 overall, Carolina Panthers – Still active with the Tennessee Titans. 2 Pro Bowls, and a Super Bowl appearance with the Giants.
Kordell Stewart – #60 overall, Pittsburgh Steelers – Very versatile player. Active until 2005. Made the Pro Bowl after leading the Steelers to a 13-3 record in 2001.
1996 – 8 QBs taken
No quarterbacks taken in the first round. This is arbuably the worst QB draft of the last 20 years. The best guy taken this year was probably Tony Banks. Yikes.
1997 – 11 QBs taken
Jim Druckenmiller – #26 overall, San Francisco 49ers – Jim who?
Jake Plummer – #42 overall, Arizona Cardinals – Hung around the league for a decade or so. Passed for almost 30,000 yards but a relatively unremarkable career.
Danny Wuerffel – #99 overall, New Orleans Saints – Won Heisman Trophy among other awards in 1996. Started only 10 games in a 6-year career.
Jake Delhomme – Undrafted – Successful career with 3 different teams. One Pro Bowl and one Super Bowl appearance. Career 82.1 quarterback rating.
Jon Kitna – Undrafted – The epitome of a journeyman quarterback. Now with his fourth team. 46-69 record as a starter.
1998 – 8 QBs taken
Peyton Manning – #1 overall, Indianapolis Colts – Hall of Fame lock. Over 50,000 passing yards, 366 touchdowns, 181 interceptions, 10 Pro Bowls, 4 MVPs and a Super Bowl win. No one's questioning this number one overall pick.
Ryan Leaf – #2 overall, San Diego Chargers – How's this for contrast? Drafted right after Manning, but was out of the league by 2002. 14 touchdowns, 36 interceptions. 4-17 as a starter.
Brian Griese – #91 overall, Denver Broncos – Had a couple good years including a Pro Bowl appearance in Denver after Elway's retirement, but wasn't able to keep it up with future teams.
Matt Hasselbeck – #187 overall, Green Bay Packers – One of the better late-round quarterback picks. Backed up Brett Favre in Green Bay for a few years, before heading to Seattle where he had a number of productive seasons and led the Seahawks to Super Bowl XL. Has since been plagued with injury.
1999 – 13 QBs taken
Tim Couch – #1 overall, Cleveland Browns – The first of three quarterbacks selected at the top of this draft. Stuck around for a few years, but definitely not what you want from a top pick.
Donovan McNabb – #2 overall, Philadelphia – McNabb, recently traded to the Redskins, has had a turbulent NFL career.
Akili Smith – #3 overall, Cincinnati Bengals – Bust. Missed most of training camp after being drafted and never did much of anything.
Dante Culpepper – #11 overall, Minnesota Vikings – Had a few stellar years with Randy Moss, but hasn't been the same since living Minnesota. Stints with Dolphins, Raiders and Lions have been mostly unsuccessful.
Cade McNown – #12 overall, Chicago Bears – Wasn't well-liked in Chicago, and if the fans hate you, chances are it's not going to work out. 16 career touchdown passes.
Aaron Brooks – #131 overall, Green Bay Packers – Selected by Green Bay, but spent his better years in New Orleans. Has been all but forgotten with the emergence of Drew Brees.
2000 – 12 QBs taken
Chad Pennington – #18 overall, New York Jets – Pennington was the only signal-caller selected in the first round. Had a solid, but unspectacular career with the Jets and now the Dolphins.
Marc Bulger – #168 overall, New Orleans Saints – Was waived by New Orleans, but ended up in St. Louis where he beat out Kurt Warner. For a while, it looked like he might end up as an elite QB, but he hasn't been the same the last three years.
Tom Brady – #199 overall, New England Patriots – One of the best late-round picks ever, and proof that all great quarterbacks don't come from the first round, and you never know what will happen. No need to give out stats, you know what he's accomplished.
2001 – 12 QBs taken
Michael Vick – #1 overall, Atlanta Falcons – Even at #1, Vick was living up to the hype, until he got busted for running a dogfighting ring. Oops.
Drew Brees – #32 overall, San Diego Chargers – People had doubts about Brees coming out of college. 30,000+ yards, 200+ touchdowns, and a Super Bowl Championship later, he's reason #952 why this crap is totally unpredictable.
2002 – 15 QBs taken
David Carr – #1 overall, Houston Texans – First of many duds in this draft class. Not a great first start for the upstart Texans. Never lived up to the hype, most because he got sacked 742 times [citation needed].
Joey Harrington – #3 overall, Detroit Lions – Yet another Top-3 bust. Started in Detroit for 4 years, but let's be honest, it's Detroit, so should that really count?
Patrick Ramsey – #32 overall, Washington Redskins – I'm not going to write about this. Ask your friendly neighborhood Redskins fan.
2003 – 13 QBs taken
Carson Palmer – #1 overall, Cincinnati Bengals – Been a solid starter for the Bengals, with a couple outstanding seasons mixed in to the mediocrity. Has had to deal with injuries and wide receiver issues that may have hindered his development.
Byron Leftwich – #7 overall, Jacksonville Jaguars – Started for a few years in Jacksonville, but has since been replaced by David Garrard and is now with his 5th team. 58 touchdowns, 41 interceptions, 10,218 yards.
Kyle Boller – #19 overall, Baltimore Ravens – I don't want to talk about it.
Rex Grossman – #22 overall, Chicago Bears – Game-managed his way to a Super Bowl appearance with a defensively strong Bears team. Otherwise, mediocre at best.
Tony Romo – Undrafted – Romo has put up fantastic numbers since getting the nod for Dallas in 2006. Arguably the best quarterback to come into the league in 2003, despite going undrafted.
2004 – 17 QBs taken
Eli Manning – #1 overall, San Diego Chargers – Immediately traded to New York Giants after throwing a fit and refusing to play in San Diego. Been successful overall, having won a Super Bowl and signed a monstrous contract extension.
Philip Rivers – #4 overall, New York Giants – Swapped for Manning on the previously mentioned draft day trade. Has been putting up very good numbers in San Diego, though the playoff success isn't what I'm sure they're hoping for. Still has a bright future though.
Ben Roethlisberger – #11 overall, Pittsburgh Steelers – Outstanding player in Pittsburgh. Also a sexual predator.
J.P. Losman – #22 overall, Buffalo Bills – One guy that didn't pan out in an otherwise very strong quarterback class. 33 career touchdowns to 34 interceptions.
Matt Schaub – #90 overall, Atlanta Falcons – Drafted by Atlanta, but has made his mark as a Houston Texan. 4700 yards to go with 29 touchdowns this past season for a Houston team that barely missed the playoffs. A great value at #90 and it'll be interesting to see if he continues to progress.
2005 – 14 QBs taken
Alex Smith – #1 overall, San Francisco 49ers – Had struggled until last season, where he showed some signs of life. Too early to call him a bust, but he's not had the success of other quarterbacks drafted after him.
Aaron Rodgers – #24 overall, Green Bay Packers – Drafted as the heir apparent to Brett Favre, but ended up holding a clipboard for a few years, while Favre continually waffled on his retirement situation. Once the Packers got fed up and gave Brett the boot, he's emerged as one of the better QBs in the league.
Jason Campbell – #25 overall, Washington Redskins – I'm not sure we'll ever know what Campbell was capable of as he was never given any sort of consistency in coaching or with his teammates.
Matt Cassel – #230 overall, New England Patriots – After taking over for Tom Brady in 2008 and doing quite well, Cassel traded to Kansas City where he received a 6-year $63 million contract. While it remains to be seen whether or not he'll have success there, it's worth noting that the Patriots were able to convert another late round selection into an NFL starter.
2006 – 12 QBs taken
Vince Young – #3 overall, Tennessee Titans – Young has had a turbulent start to his NFL career. He was the started, then he wasn't, then he was again, and had disappeared at one point during the 2008 season. Only time will tell whether or not this was a good pick.
Matt Leinart – #10 overall, Arizona Cardinals – Began his career as the starter, but was given a short leash after the acquisition of Kurt Warner, who eventually led the team to a Super Bowl appearance, and unless the Cardinals grab another QB, he'll get a second, and likely final, chance in the upcoming season.
Jay Cutler – #11 overall, Denver Broncos – Played very well in Denver, but has struggled since being traded to the Chicago Bears. Definitely an elite talent, but there are personality concerns and he'll have to assert himself as a team leader if he wants to have success in the Windy City.
2007 – 11 QBs taken
JaMarcus Russell – #1 overall, Oakland Raiders – Some might say it's too early to call JaMarcus a bust, but I beg to differ. Why? Because Oakland fans hate this guy. I was at the Ravens-Raiders game in Oakland last season. When Russell came in after an injury to Bruce Gradkowski, Oakland fans booed like crazy, one even said, "Ravens' fans, help us boo Russell." Too much built up negativity for him to ever have success there.
Brady Quinn – #22 overall, Cleveland Browns – Never got much of a chance in Cleveland with the emergence of Derek Anderson and it's hard to imagine he'll have many more opportunities in Denver.
Kevin Kolb – #36 overall, Philadelphia Eagles – The Eagles must see something in this guy that a lot of people don't. They're so confident in his development, that they traded Donovan McNabb and made Kolb the starter, despite him having only 4 career touchdown passes to 7 interceptions.
Matt Moore – Undrafted – Will likely be the starter for the Carolina Panthers this year, although he is still very inexperienced.
2008 – 13 QBs taken
Matt Ryan – #3 overall, Atlanta Falcons – After the imprisonment and uncertain return of Michael Vick, Atlanta chose to select what they hoped would be a franchise quarterback. They were right, as he and fellow rookie Joe Flacco had almost unprecidented success in their first seasons.
Joe Flacco – #18 overall, Baltimore Ravens – Most of the "experts" had no idea Flacco would go so early in the draft, but he hasn't disappointed, winning at least one playoff game in each of his first two years. Both Flacco and Matt Ryan will be successful starters in the NFL for years to come.
Chad Henne – #57 overall, Miami Dolphins – Became a solid starter unexpectedly after a season-ending injury to Chad Pennington in 2009. Will have to improve upon his numbers to assert himself as a QB capable of winning games year after year.
2009 –
Matthew Stafford – #1 overall, Detroit Lions – After Detroit's 0-16 season in 2008, it became abundantly clear that something needed to change at the sport's most important position. In came Matthew Stafford. His statistics were less than stellar, but he showed toughness and as the team around him improves, I see no reason to believe his career won't be considered a success.
March Sanchez – #5 overall, New York Jets – Much like Stafford, he had underwhelming statistics, but showed that he's capable of being a quality starter in the league. Much of his team's success can be attributed to their defense and running game, there's something to be said for ending up in the conference championship game as a rookie.
Josh Freeman – #17 overall, Tampa Bay Buccaneers – Struggled at times, but played well enough to earn a win in his first start and one over the eventual champion New Orleans Saints. Like the other two first-rounders from 2009, he'll have the opportunity to gain much more experience and take his game to the next level in 2010.
As you can see, the quarterbacks that succeed aren't those that set every record in college or those that. There's a certain intestinal fortitude required to be successful as an NFL quarterback and there's no way to know whether or not a player has what it takes until he gets on the field. Taking a QB at #1 is a 50-50 proposition at best, but for football's most important position, most teams think it's worth the risk.
There's no way anyone can know with absolute certainty who among this year's draft class will be great. Tim Tebow could be the next Alex Smith, or the next great postseason performer. The McKipers will tell you they know who's the best, but the drafting of quarterbacks is no more a science than it is a coin toss.