In recent weeks Mike Vick has found himself back in the news again, after his release from federal custody and subsequent meeting with NFL Commissioner Roger Goodell.  It's a controversial issue. Sunday night, I posed the question to our twitter followers: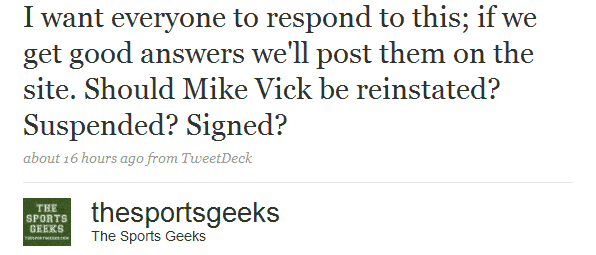 Thanks to all who responded. This is a cool way to gauge public opinion, and I think we'll start doing this every week, so look out for a "Question of the Week" and be sure to share your thoughts with us. A lot of people were on the side of Terrell Owens, and think that Vick should be allowed back into the NFL right away:
Some suggested what team he should go to:
lubes51 even suggested he'll end up in another league entirely:

Others disagreed entirely:
yellynotsmelly wasn't the only one to use a Stallworth comparison, BiggPolo has a different take:

I'm all for animals rights, but it does seem strange that Vick was in jail for the better part of two years, and Dante Stallworth got only 30 days for DUI manslaughter. Maybe he just had better lawyers. Lastly:

"He paid his dues," according the government. Is it right for Roger Goodell to punish him beyond that. Vick was allowed to hold a construction job, why not one in the NFL?
As I was finishing this up, it was announced that Goodell had reinstated Vick and he could play as soon as October. Thoughts?