With just four teams remaining and 87.5% of the league at home watching, there's a fairly good chance that your favorite team isn't one who is playing this Sunday. That leaves the rest of us jealous, bitter fans (myself included) to either hitch our cart to a bandwagon or resort to petty hatred of a team for contrived reasons. As a perennial hater of the year candidate, I decided to come up with some reasons why you too can cheer against a team(s) this weekend instead of cheering for someone. Positivity is overrated anyway.*
San Francisco 49ers
You know how no one will likely ever feel sorry for the Colts again after they had over a decade of watching Peyton Manning play….and then replace him with a player who has the potential to be an all time great as well? That's exactly how we should be feeling for the 49ers right now. In the early-90s they replaced one Hall of Fame QB with another. I've heard people talk about the "drought" the 49ers have been faced in regards to Super Bowl victories. That drought would be a warm welcome to the 17 teams who have waited longer, 11 of whom have never won the Super Bowl. Many of us fans can tell you where to stick that drought.
Other reasons why people can cheer against you include, but are not limited to: your coach shakes hands like a frat boy at a kegger and you had a shot at the Super Bowl last year and couldn't get it done then.
Atlanta Falcons
There's a lot of QBs in this league who get ripped apart for meager playoff performances and have that criticism carry over to next year but Matt Ryan seems somewhat immune to this. You think that one playoff win cured him of his history of horrible postseason performances? He was about 30 seconds away from blowing a huge lead last week and watching a rookie QB send him home early again. Having him in the MVP discussion every year isn't going to mean much until he does something significant past week 17. Plus, his nickname is a play on words from one of the worst beers you can drink.
You could also cheer against this team because you're sick of hearing how loud the stadium gets like it's some sort of badge of honor that 70,000 plus people sitting under a roof can make a lot of noise. Congrats, Atlanta. They also got stomped the last time they represented the NFC in the Super Bowl, so if you are the sort of person who cheers for your conference there's always that angle.
Baltimore Ravens
SPOILER ALERT: Did you know that Ray Lewis is retiring after this season? I'm hoping that instead of hearing the announcers tell us that every 5 minutes CBS can just scroll the message across the ticker the entire game. If you thought all the coverage a few years ago leading up to Jerome Bettis' last game in the Super Bowl was overdone, the Lewis coverage will blow it out of the water.
LB Brendon Ayanbadejo thinks that the Patriots hurry up offense is a gimmick so there'd be some comedic factor seeing him get picked apart by said gimmick and, similar to the 49ers, they had their shot at the Super Bowl last year and blew it as well.
New England Patriots
While the Patriots didn't invent bandwagon fans, their wagon has been overflowing with these people since Brady's first Super Bowl, and they are an obnoxious sort. There's really a lot of reasons a person could find to root against the Patriots such as Spygate, the undefeated (18-1) talk from a few years ago, their QB stars in Ugg ads, the tuck rule, and many things Bill Belichick related. The last time I checked, great dynasty teams led by the supposed greatest coach to pace the sidelines don't lose two Super Bowls in a row to Peyton's kid brother in games they were heavily favored in.
If those reasons aren't enough, I present this picture and this picture.
BONUS HATER OPTION: If you want to cheer against a particular matchup, the clear choice is rooting against a Harbaugh Brothers Super Bowl matchup which ESPN will probably produce an instant 30 for 30 on the topic and play it nightly leading up to the big game.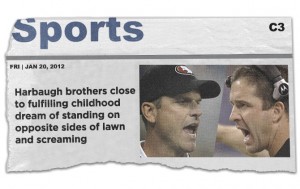 *Truth be told, I really don't dislike any of the teams this weekend and it's taken me a while to come up with reasons for each team so I should add the disclaimer that the views expressed here do not represent the views of The Sports Geeks or even the person who wrote the piece in the first place.
The Picks
I followed up my wild card 4-0 prediction weekend with a pathetic 1-3 divisional round. The biggest surprise from last weekend was the sheer number of points teams put up. The lowest total was 28 points (Seahawks and Texans) and every team scored above their regular season points per game average by the following margins: Ravens +13.1, Broncos +4.9, Packers +3.9, 49ers +20.2, Seahawks +2.2, Falcons +3.8, Texans +2.0, and Patriots +6.2. Will the shootouts continue this week? There may be some high winds in Gillette Stadium this afternoon which could slow down the passing game, but I'd be surprised if we didn't see some more high scoring affairs.
Baltimore Ravens vs New England Patriots
Current line: Patriots -7.5
These teams met on this stage last year in a thriller of a game that left a bad taste in the mouth of the Ravens who were a dropped TD or a missed FG away from the Super Bowl. This matchup, in recent years, has typically been a high powered offense (Patriots) versus a top notch defense (Ravens) but this year the Ravens bring a better offense to the table while their defense has taken a little step back. Lots of storylines in this game to watch.
Keys to the game
For Baltimore: Keep the bombs coming. If people didn't know that Joe Flacco could sling the deep ball before, they do now. Flacco has had 5 passes of 40+ yards this postseason and the ability to stretch the field like that should open things up for Ray Rice as well who has had somewhat of a quiet postseason by his standards. The Patriots are 29th against the pass, in part because they build big leads early and force teams to pass, but it's definitely a chink in the armor that Flacco and the Ravens could try to exploit.
For New England: Play fast on offense. The Patriots run the no huddle better than anyone in the league and will likely do a lot of it today to keep the Ravens off balance and tire out the defense. The Patriots should be able to create mismatches by forcing the Ravens LBs to cover smaller, faster receivers. They will be without star TE Rob Gronkowski, but they will have Aaron Hernandez healthy for this game who is a nightmare matchup for teams as well.
Prediction: New England wins 31-27
San Francisco 49ers vs Atlanta Falcons
Current line: 49ers -4
You don't often see road favorites in this round of the playoffs, but coming off their dismantling of the Packers while the Falcons lost a 20 point lead, the 49ers are entering this game with confidence that's backed by Vegas. Both teams can put up points in a hurry as the Falcons have a traditional pocket passing QB with three top notch targets while the 49ers feature a dynamic offense centered around their athletic QB who is a threat to run or pass at any moment. The 49ers have the more stout defense but Atlanta has shown an ability to win close games this year.
Keys to the game
For San Francisco: Stop the run. The Falcons offense revolves around Matt Ryan but when Turner and Rodgers run like they did last week against Seattle, it takes a lot of pressure off of Ryan who has a history of poor playoff performances. If you ignore the final drive, when Ryan was pressured and force to throw in the second half he was erratic and threw a bad interception late. If the 49ers can take away the run, they can  force Ryan to make the plays.
For Atlanta: Prevent Kaepernick from escaping the pocket with options. Last week the Falcons were credited for their overall performance of stopping the running ability of Russell Wilson…yet he killed them through the air. Often times, Wilson escaped the pocket but would do so to buy time to find an open receiver (his first thought wasn't to run). Kaepernick will get his rushing yards regardless, but if the Falcons can force him into quick decisions to run instead of rolling out to run or pass, it takes a part away from the opposing offense that hurt them in the prior week.
Prediction: Atlanta wins, 27-24