The Dwight Howard super-trade finally went through yesterday, freeing one of the NBA's biggest babies from a terrible situation (that he created) in Orlando. It included 12 players and 5 picks. It's almost impossible to grasp what happened by just reading some blob of text with the details, so I (Alex) created a friendly little graphic with some pretty arrows to help us understand what went down to get Dwight to L.A: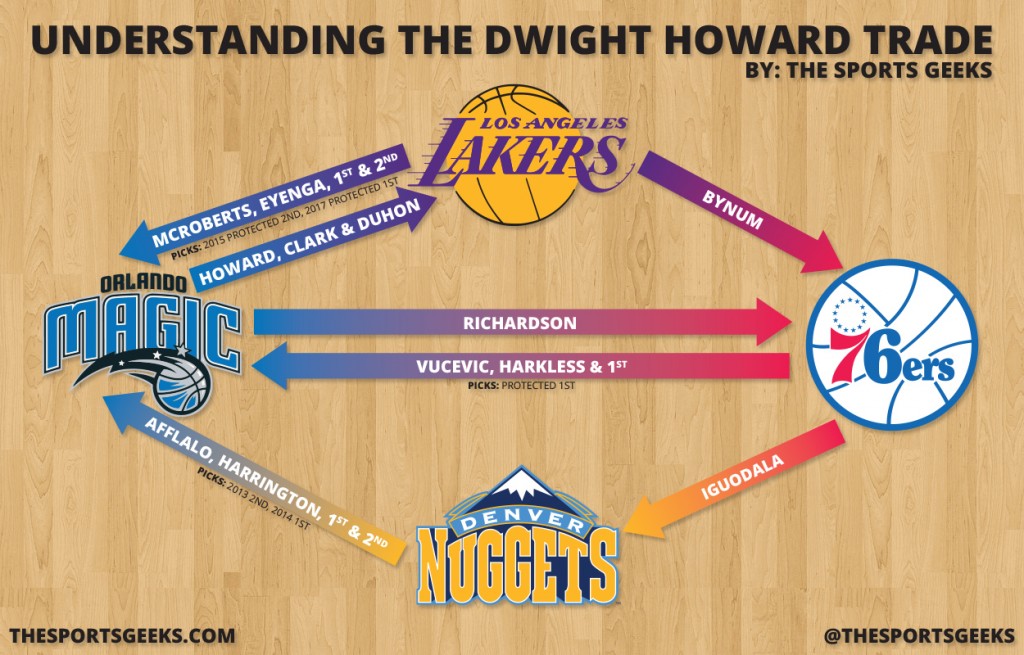 I already hate this trade a little bit, because now I have to redo my "The Indecision" graphic with Howard in a Lakers uniform (since he's not signing an extension and we'll seeing ESPN reports on his every whim from now until the day we die). Now that I'm done complaining, Matt and I will be breaking down the trade on a team-by-team basis. Enjoy:
Los Angeles Lakers
Alex: The main questions here are 1) How much of an improvement over Andrew Bynum is Dwight Howard? and 2) Will Howard stick around beyond this year? It's pretty clear that Howard is the better player, but if he doesn't resign with L.A. next summer, they might end up regretting not trying to work out an extension with Bynum because to be without either long term is not ideal. Kobe and Pau are on the books for $50 million in 2012-13, but after that Nash is the only guy under contract and the potential exists for this to really become Howard's team. If he chooses not to resign there, the Lakers roster could look very, very different in 2013.
Aside from the long-term uncertainty, things are looking pretty good for Mike Brown's Lakers. With the additions of Nash and Howard, it's hard to argue that they won't be one of the favorites this year in the West, along with the Thunder and Spurs. This could set up a Lakers-Heat Kobe-LeBron super-Finals showdown that has David Stern and television executives drooling already.
Overall, I'd say this was a win for the Lakers, who with the acquisition of Nash and now Howard get themselves a little bit close to contention the Western Conference, just a year after falling to the Thunder in fives games.
Denver Nuggets
Matt: The Nuggets get a giant Gold Star for picking up Andre Iguodala in exchange for a first round pick and two replaceable players guaranteed nearly $40,000,000 over the next three years. Even better, Andre Iguodala helps their team into an athletic, defense-and-rebound kind of operation that I could see fast-breaking up-and-down-and-over opponents, especially at home in altitude. If Iguodala's 2012 three-point percentage is a legitimate improvement he even replaces some of Afflalo's role as an outside shooter. Hopefully Gallinari recovers from his shooting decline as well.
If I were George Karl, I would try Iguodala at SG. My starters would be Lawson, Iguodala, Gallinari, Faried, McGee. I'm converting Afflalo's minutes to Iguodala and Harrington's minutes to Faried, McGee, and even Koufos, and I see nowhere to go but up for 2012-2013, and they were a playoff team last year.
Going forward, the worst-case scenario would be that Andre Iguodala opts-out after this year and doesn't re-sign. That means they'll have traded Afflalo and draft value to have an all star for a year and clear cap space. I wouldn't say that's bad at all. In the best-case, Iguodala opts-out purely to negotiate a three-year deal at a lower rate but with more total money than he's currently guaranteed. He'd basically be insuring his sore knees, and Denver gets him at a discount. I personally think he'll roll the dice that he can still get that same multi-year-deal after his $16,000,000 player option for 2013-2014, so the Nuggets may be "stuck" with him for an extra year at full price. I know opinions on Iguodala span a spectrum as wide as the solar system but I don't mind that price at all.
Philadelphia 76ers
Matt: In the NBA, some positions are harder to fill than others. One of those scarce positions is center. And one of the more stocked positions is small forward. Just look at team USA: They had to dig into the college ranks for a big man while rostering approximately 39 wingmen.
I like trading Iguodala for Bynum, the key mechanism of this particular stage of the Howard Indecision (the first stage has completed the launch sequence and is burning up upon reentry into the atmosphere). The compensation for this upgrade is fair: we send a rookie who showed great potential before his unceremonious relegation to the bench (Vucevic) and a freshly drafted guy widely praised except in these circles and they even it out with a mediocre winger who's overpaid (Richardson). (Sneaky bonus: Richardson might be given all of Nick Young's hypothetical minutes.) We also send a draft pick to Orlando contingent upon a formula based on a draft pick previously traded to Miami and the nearness to Earth of Halley's Comet.
So I don't see this is as an A+ type of deal, where water turns into wine (like Denver). This is more of a B, where we improved the value of the position our best player plays. Oh, and our new star is more famous, will sell more tickets, and score more points, so that will help the franchise bottom line, if that's your thing.
I'm going to ignore Coach Collins's comparison of Spencer Hawes to Pau Gasol and give you the very rough minute distribution I would start the season with were I in charge:
| | | | |
| --- | --- | --- | --- |
| PG | Evan Turner, 16 | Jrue Holiday, 32 | Royal Ivey, 0 |
| SG | Jason Richardson, 32 | Evan Turner, 16 | Nick Young, 0 |
| SF | Dorell Wright, 32 | Thad Young, 16 | |
| PF | Lavoy Allen, 28 | Thad Young, 16 | Arnett Moultrie, 4 |
| C | Andrew Bynum, 36 | Lavoy Allen, 4 | Spencer Hawes, 8 |
That's actually not awful. Turner played his best ball last year when he moved to a starting PG role. (Fortunately we moved him back to an off-ball role after those few games.) Richardson and Wright aren't bad, Allen's up-and-coming, and if Bynum's not given 28 shots a game there will be rioting in the streets and center launching threes. The problem is, my plan involves giving 0 minutes to several people we just signed or re-signed this #oofseason, ignoring stated plans from the coach, and pretending Kwame Brown isn't actually on the team. In the real world, we might be seeing a lineup of Ivey, Young, Young, Hawes, Brown at some point.
This trade itself improved the team and gave the Sixers the chance to give a premier center more money than anyone else next off-season. Those are good things. The bad thing is the rest of the #OOFSeason did nothing to surround Bynum with anyone good.
Orlando Magic
Alex: Last but not and least, are the Magic, who fired their coach (a good and quotable one) to appease a player that they've now traded away for pennies on the dollar. In the trade they recieved Arron Afflalo, Al Harrington, Nikola Vucevic, Moe Harkless Josh McRoberts, Christian Eyenga and bunch of (mostly protected) picks, which is really just a drawn out way to say "nothing good". The trade was about as successful for Orlando as this dive was for the diver: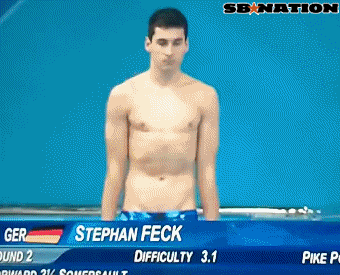 Not only did they not get the 2nd best player in the deal (Bynum), they didn't get the 3rd best (Iguodala) either, all while giving up the best center in the league. One can't help but wonder whether they could've gotten a better deal from the Nets a few months ago when those talks were reportedly close. It was just three years ago that the Magic were in the NBA Finals, and now they're well on their way to being one of the worst teams in the league.
On the bright side, they only owe Gilbert Arenas $40+ million over the next two years and I'm sure Glen Davis and J.J. Redick will sell a ton of season tickets.