Please visit http://nbabracketology.com/ and make your own picks!
8 Philadelphia at 1 Chicago
Chicago in 6
After calling in sick for most of April, Derrick Rose appears ready to ambush the 76ers. While a combined 8-of-20 for 21 points in his two comeback/tune-up appearances this week didn't help his fantasy owners much, he still distributed 15 assists in the two games. If injuries do force Rose into more of a point guard role, the biggest impact will be at the free throw line if he's unable or unwilling to drive the lane. His 5 freebies a game on 6 attempts accounts for a third of the Bulls' work at the stripe and almost a quarter of his total points. And any help the 76ers can get on leveling the free throw totals—they attempted the least in the league—will surely be appreciated.
Regardless of Rose's health, Chicago's main attractions are league-leading rebounding and defense. By the end of the season the Sixers' PF/C rotation had spun so fast it had gone into orbit, and which players will start, sit, DNP, and stay at home playing Wii hasn't yet been announced. This is not a good sign when you face the #1 rebounding team in the NBA, even if Holiday, Turner, and Iguodala are excellent on the boards for their positions.
If Rose is 100% look for Collins to try Holiday and Iguodala against him, and look for Thibideau to find ways in the pick-and-roll to give Rose a big man to attack. Both teams showed a half-court trap in their regular season match-ups. Trapping the Sixers' starters hasn't seemed effective, as Jrue Holiday (6'4″) and Evan Turner (6'7") are strong enough or tall enough to pass out of the double. Worse, they're passing to Andre Iguodala and Thad Young, forwards more than capable of handling the ball and taking it to the rim. On the other hand, several teams tried it so there must be something in the scouting report. Trapping end of quarter iso plays that originate in a corner is of course perfectly defensible.
As the underdog, the Sixers will want to employ gambling strategies to mix up the game, so a trap might make more sense, especially with their collection of athletic 6'6"-6'8" players when the lineup includes Turner, Iguodala, and Young. They made late in a game against the Bulls by bringing Thad off of Carlos Boozer as soon as the ball crossed half-court.
7 New York at 1 Miami
Miami in 5
The Heat look poised to take the East again with Rose reeling and a clear drop off existing after the top tier of two. LeBron will showcase his skills in this series, guarding Carmelo Anthony and producing a nice stat line against the Knicks defense.
The Miami team defense in general seems unappreciated. When they're on, they rotate in ways that must be sickening for coaches of more defensively-challenged teams. Passes that ought spring open shooters not only turn into contested shots, they turn into traps, turnovers, and soon the Three Amigos are throwing alley oops up the court.
Much has been made of various Knicks media Official Storylines this year—the new point guard, the new coach, the new Carmelo Anthony after the old coach was fired—but really, the season has been defined by absences. Namely, the Jeremy Lin Improvement Period wasn't just about the Linsanity, it was about sending their other PGs to the bench, and the absence of the other stars. You may have noticed that Improvement Period 2—alternatively referred to as "Carmelo's trying again" or "D'Antoni stinks and the new coach is awesome"—coincided with Amar'e's return to the bench.
That's not to deny Melo's hot streak. But will it continue? And even if he is Trying Harder, how much will it matter against the MVP?
6 Orlando at 3 Indiana
Indiana in 4
Basically, more minutes for pretty much anyone on Orlando not named "Dwight Howard" is not just a downgrade, but a major downgrade. Main question: "4 games or 5?".
4 Boston at 5 Atlanta
Atlanta in 7
Thanks to the intricacies of NBA seeding rules, Atlanta has the homecourt advantage for this series, and these two are so close that it makes all the difference. While Boston has the best player on the court in this matchup—Rondo's 16/6/15 per 48 minutes is ridiculous—the teams are just too evenly matched to go with anything other than a seven-game series.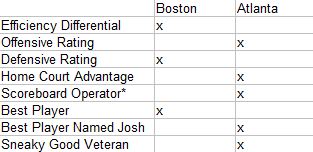 You might think the Celtics, the old veteran team, would have the Sneaky Good Veteran advantage, but Tracy McGrady in 10-20 minutes a game is putting up a 16/8/6 per 48 minute line. Who knows what could happen when you combine the Atlanta Home Scorekeeper with a guy who can do this:
They have the better record but since I went all favs so far I'm claiming it as an upset.
8 Utah at 1 San Antonio
San Antonio in 5
The Jazz pull off an upset in game 3 when Gregg Popovich decides to rest his entire team and bring up their D-League affiliate to get some playoff experience.
7 Dallas at 2 Oklahoma City
Oklahoma City in 5
The Scoring Champion takes on the Defending Champion. Dallas hasn't been quite as good without Tyson Chandler patrolling the paint. Wins Produced has him as a top 3 player in the entire league this year, well worth the price the Knicks paid and when you compare it to the $8 million Mark Cuban paid for Lamar Odom it's a ste–wait, no, the word "steal" shouldn't be applied to anyone but Odom in this scenario.
The Thunder have developed their own rim protector.
http://www.youtube.com/watch?v=AbyOevVAYQI
Oh, wrong video, sorry.
http://www.youtube.com/watch?v=H_vR6YJ36M4
6 Denver at 3 Los Angeles Lakers
Denver in 6
Speaking of Wins Produced and shot blockers, now that the Nuggets figured out how to spell Faried on the line-up card I'm putting them ahead for the series. By efficiency differential–the best predictor of future success–these teams are equal. The Lakers have home court but Denver's home court is better. And finally, the Nuggets have been playing better ever since giving Kenneth Faried minutes! By Wins Produced per 48, believe it or not, the 2nd best player in the NBA.
http://www.youtube.com/watch?v=t6ty4-l7UkY
It's hard to argue with someone putting up an efficient 22/16 per 48 minutes.
Flop City at Memphis
Flop City in 7
People are saying Chris Paul's been holding back and saving it for the playoffs. Really?! He was in the top 20 in everything: 14th in min/game, 13th PPG, 3rd Ast/game, 1st Stl/game… Make it a sweep if he's actually able to play better than that.
The Grizzlies are reintegrating Zach Randolph into things, and if he's able to kick it into high gear (and kick Speights into bench gear) I'll probably be wrong as Jordan and Griffin can't guard Marc and Zach.