Ah, it's that time of year. March Madness is upon us. We get to see up-and-coming basketball stars compete in games with the greatest of consequences. Sadly though, most of these players will only remain in college for a year, and will then head on to the professional ranks. But what if these guys stuck around until they were seniors? Up until the mid 70s, players were required to be four years removed from high school graduation in order to sign an NBA contract. Since then, the rules have been modified, and players often leave early, leaving us to wonder, what their college careers would have looked like had they remained in school.
We've taken the liberty of going through the last 3 years worth of NBA early entrants, and seeding the top 16 based on what could have been. It's amazing to see some of these lineups, and the top few seeds have especially stout starting fives. We all love upsets, but it's hard to imagine Northern Iowa or Cornell upsetting one of these teams. Today and tomorrow we'll announce the 16 teams. There will be a poll below each match-up, which will be open for the next week  (Polls are closed, check back soon for the Elite Eight). Next weekend, we'll come up with an Elite Eight and go from there. Here are the four teams from both the West and Midwest regions. Be sure to check back tomorrow for the both the East and South regions. (* indicates player no longer with team in reality)

MIDWEST

#1 Ohio State
The Buckeyes are our #1 overall seed. They haven't had as much tournament success as I'm sure their fans would like, but most of that can be attributed to a plethora of early exits. When you see this lineup, it's clear that Thad Matta is doing a hell of a job recruiting. They've got 5 guys who have left early the last few years, including three 7-footers in Greg Oden, Kosta Koufos, and B.J. Mullens.
Greg Oden* – Center, 7 ft, 285 lbs. Despite being plagued by injuries during his NBA career, Oden had a tremendous one year run in college. It's hard to imagine him not being incredibly dominant as a college senior.
Evan Turner – Forward, 6 ft 7 in, 205 lbs.
Mike Conley* – Guard, 6 ft 1 in, 185 lbs.
Daequan Cook* – Guard, 6 ft 5 in, 195 lbs.
William Buford – Guard, 6 ft 5 in, 185 lbs.
Key Reserves: B.J. Mullens*, Kosta Koufos*.

#4 Georgia Tech
Lawal and Favors are talented big men, but the team has struggled this year due to inconsistent play from the rest of the team, and still managed to notch a first-round upset over Oklahoma State in the tournament. The additions of Crittenton at guard and Young at Forward would allow the two big guys up front to flourish.
Gani Lawal – Forward, 6 ft 8 in, 233 lbs. Both Lawal and Favors are potential first round picks.
Derrick Favors – Forward, 6 ft 10 in, 246 lbs.
Thaddeus Young* – Forward, 6 ft 8 in, 217 lbs.
Javaris Crittenton* – Guard, 6 ft 5 in, 198 lbs. More famous now for his confrontation with Gilbert Arenas, Crittenton was a first round pick who averaged 14 points and almost 6 assists in his lone season at Georgia Tech.
Iman Shumpert – Guard, 6 ft 4 in. 200 lbs.

#2 Syracuse
Even though they lost to Butler just last night in a Sweet 16 match-up, the 2010 'Cuse team still managed a #1 seed. The addition of the three consistent scoring threats who departed early would make the Orange a force to be reckoned with.
Wes Johnson – Forward, 6 ft 7 in, 205 lbs.
Jonny Flynn* – Guard, 6 ft, 185 lbs.
Paul Harris* – Guard/Forward, 6 ft 4 in, 230 lbs.
Donte Greene* – Forward, 6 ft 11 in, 226 lbs.
Kris Joseph – Forward, 6 ft 7 in, 207 lbs.

#3 Pittsburgh
Take this year's team, a three seed who lost to Xavier in the second round, and add the ACL-less DeJuan Blair from last year's one seeded team, and you've got quite a juggernaut. Increased experience for the guards would help the team improve upon their 2009 tournament run, though the loss of senior forward Sam Young hurts. Reserve Center Gary McGhee adds some size when needed.
DeJuan Blair* – Forward, 6 ft 7 in, 265 lbs. Averaged 15 and 12 in his last season at Pitt. Now with a respectable 8 and 6 in San Antonio in only 18 minutes per game. Would have been a huge addition to the '09-10 Pitt team.
Nasir Robinson – Forward, 6 ft 5 in, 220 lbs.
Ashton Gibbs – Guard, 6 ft 2 in, 190 lbs.
Brad Wanamaker – Guard, 6 ft 4 in, 210 lbs.
Jermaine Dixon – Guard, 6 ft 3 in, 200 lbs.
Key Reserves: Gilbert Brown, Gary McGhee.
WEST

#1 UCLA
This season was disappointing for UCLA, but the talent they've sent to the NBA over the last few years earns them a #1 seed. Guard Jrue Holiday left after only one season this past spring, and teammates from the 2008 Final Four team, Kevin Love and Russell Westbrook, went 4th and 5th in that year's draft.
Kevin Love* – Forward, 6 ft 10 in, 260 lbs. Love had an impressive run at UCLA in '07-08 and probably could have continued to be dominate, although you can't blame him for taking $3 million a year to head to the pros a couple years early.
Nikola Gragovic – Forward, 6 ft 9 in, 225 lbs.
Jrue Holiday* – Guard, 6 ft 4 in, 199 lbs.
Russell Westbrook* – Guard, 6 ft 3 in, 187 lbs. Developing into a solid point guard for Oklahoma City and would have been a fantastic college player had he decided to hang around.
Michael Roll – Guard, 6 ft 5 in, 200 lbs.

#4 St. Mary's
This one might come as a surprise. We've seen from their tournament this season that the Gaels are more than capable of making some noise. The addition of guard Patrick Mills makes the an even greater threat. Plus, they have a bunch of Australians, and Samhan has a cool blog.
Omar Samhan – Center, 6 ft 11 in, 260 lbs. His performance (61 points, 19 rebounds combined) in their first two tournament games, has placed him on the national radar.
Ben Allen – Forward, 6ft 11 in, 260 lbs.
Matthew Dellavedova – Guard, 6 ft 4 in, 185 lbs.
Mickey McConnell – Guard, 6 ft, 180 lbs.
Patrick Mills* – Guard, 6 ft, 180 lbs. Patty, who hasn't been getting many minutes in Portland this season, could have improved his draft status, much like Samhan, with another tournament run.

#2 Southern California
You can field an entire starting lineup from players that have left USC early in the last few years, which is important, because they weren't very good this year without these guys. This team includes one and done Memphis Grizzlies guard O.J. Mayo and two players that left early but went undrafted in Jefferson and Hackett, along with DeMar DeRozan of the Toronto Raptors and Chicago Bulls forward Taj Gibson. Scary thought: Brandon Jennings originally planned on attending USC; his addition probably makes the Trojans a #1 seed.
Taj Gibson* – Forward, 6 ft 10 in, 210 lbs.
Davon Jefferson* – Forward, 6 ft 8 in, 215 lbs.
DeMar DeRozan* – Guard/Forward, 6 ft 7 in, 220 lbs.
O.J. Mayo* – Guard, 6 ft 4 in, 210 lbs.
Daniel Hackett* – Guard, 6 ft 5 in, 205 lbs.

#3 Duke
The Blue Devils were a solid team this year, and earned a #1 in the tournament. The addition of would-be senior Gerald Henderson adds a little more athleticism to an already solid lineup.
Brian Zoubek – Center, 7 ft 1 in, 260 lbs.
Kyle Singler – Forward, 6 ft 8 in, 230 lbs.
Gerald Henderson* – Guard, 6 ft 5 in, 215 lbs.
Nolan Smith – Guard, 6 ft 2 in, 185 lbs.
Jon Scheyer – Guard, 6 ft 5 in, 190 lbs.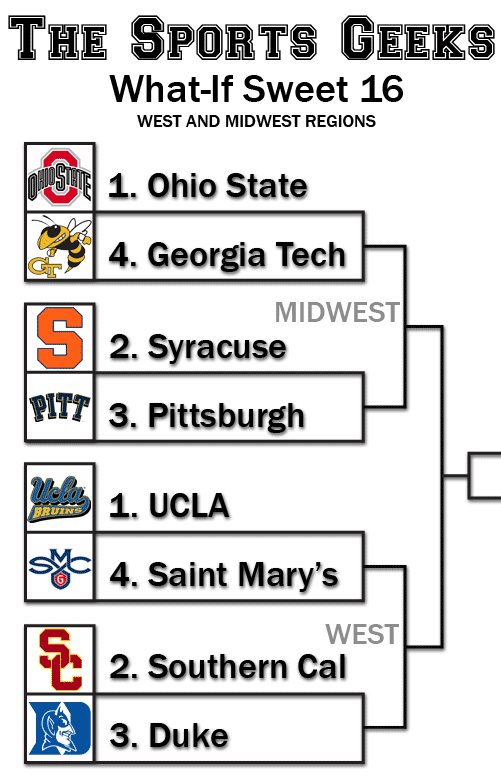 That does it for the first half of our What-If Sweet 16. Check back tomorrow for the East and South regions. Thanks for reading!