Editors Note: This post was written by Lucas Walker. He writes at Toronto Sports Blog (http://tosportsblog.wordpress.com/), but he'll be contributing here from time to time. If you enjoy this post, be sure to check out his blog and hit him up on Twitter.
There are two ways two measure manliness in this world; sports and mustaches. The manliest of men balance both at the same-time, and this article is a recognizes those who have given the time to groom the finest lipticklers around, while being some of the most overpaid men in the world.

Major League Baseball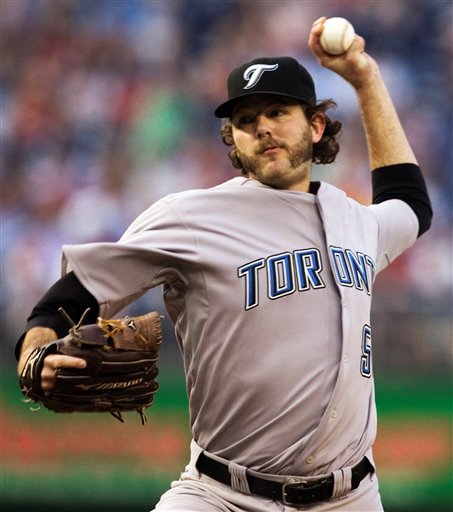 Brian Tallet
From the injury depleted Blue Jays pitching staff, Brian Tallet has worked his way from the bullpen, to the near top of the starting rotation. Some may credit this to his hard work, and determination he has shown in the bullpen, while others will say its due to the 47 injuries to the Blue Jays starting rotation. Actually, they have had 11 different starters this season. I know the real answer, and that's because of how he came into the start of the season. About a third of the way through, he borrowed some chops from injured teammate Dustin McGowan, and grew a mustache/two sideburn combo I like to call The General.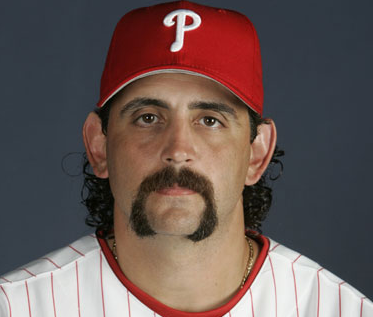 Salvatore Fasano
For a backup catcher who can't hit, Sal Fasano has quite the fan base. The Fasano faithful are known affectionately as Sal's Pals here in North America, and Fasano's Pisanos in the old country. Fasano has quite literally built up his fan base solely on his facial hair. While doing his journeyman thing, Fasano got traded from the Phillies to the fun hating Yankees. He kept his stache…or as much of it as they would let him.
While he may look like the type of Harley-driving and Jack Daniel's-drinking redneck you wouldn't want anywhere near your child's playground, the truth is Fasano is a hard-working Christian who doesn't drink and plans to study paleontology after he retires from baseball. Oh ya, and part of the reason he is still kicking around the minors is to help pay the medical bills of one of his children who was born with hypoplastic left heart syndrome. I can't say enough about the man, so I will end with a shameless plug to his charity Sal's Pals.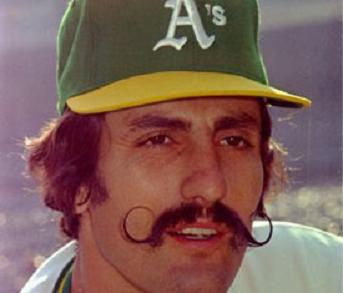 Roland "Rollie" Fingers
With a name fit for a crunk-beat rapper, Rollie, along with the next man on this list, helped to define the closer position. Only Rollie bring back the waxed moustache, when he came into pitch his theme music was "I'm Bringin's Waxy Back" by Justin Timberlake Sr. He also had his number, 34 for those curious, retired by both the Athletics and the Brewers. Not only was he an excellent ballplayer, he was a stylish individual who I'm sure made GQ's best dressed list year after year.
One final baseball player for the list, with some honourable mentions to come. One of the most dominant relief pitchers who helped define the closer position. Like Fasano, he was a journeyman and he made it all the way to Japan. Unlike Fasano, he was allowed to keep his handlebar mustache while playing for the New York Yankees. He's also in Cooperstown.
Honourable Baseball Mentions
Jason Giambi. His was good enough to be endorsed by the American Mustache Institute, but he just didn't keep it long enough to make the list.
Keith Hernandez. Not only did he make the list, he's Keith Hernandez!
Al Hrabosky. Sure it's bushier than Fasano, but I like Sal more, plus Hrabosky caved and grew a beard.
National Basketball Association
During its heyday, no sport boasted better 'taches than basketball. The tradition is alive thanks to players and coaches alike. While there aren't as many mustaches as in the NBA these days, there are some that are quite noteworthy.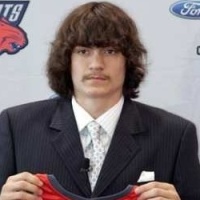 Adam Morrison
While some say that this one should be in the NCAA category, but he does has a ring to boot with that teen-stache. When he was picked 3rd overall by the Charlotte Bobcats, many expected him to grow into a seasoned veteran, and possible illegitimate child of Tom Selleck. Sadly, Morrison got injured, traded to the Lakers, and ended up with a ring. To add insult to injury, at 24 years of age, you can still see the forest for the trees, that is to say his mustache is still thinner than Jeremy Piven's hair when he auditioned for the role of George.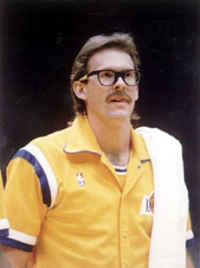 Kurt Rambis
The Greek God of upper lip hair. Funny having two Lakers on this list, but they know how to win, and they know how to stache it up. Rambis, who with those goggles, pedistache, and grainy black and white photos joins Fasano on the list of people you wouldn't want hanging around your child's playground. Rambis was a part of the Lakers during the years of rivalry in the 1980's with the Celtics. I can't imagine anything more intimidating then Rambis coming down the court ball in hand, stache on lip, and glasses on nose. Kobe's scowl comes nowhere close. He had brief tenure as head coach in 1999, and served as an assistant under Phil Jackson, but not only is he a coach in real life; he played one on 7th Heaven as well. If Phil decides to step down could Mr. Rambis be back at the helm?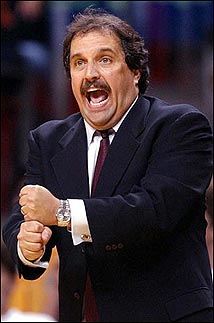 Stan Van Gundy
This year's NBA playoffs brought attention to a few things, the aforementioned permascowl on Kobe's face, a shot that meant nothing by LeBron James, and Stan Van Gundy's mustache. If Van Gundy were to retire tommrow, even with this economy he would have no trouble finding a job, as his twin brother Ron Jeremy's stuntman. At TSB I see what people have googled to come to my blog and far too many people have googled "Stan Van Gundy Penis".
Honourable Basketball Mention
Larry Bird. The legendary Mr. Bird would have made the list, but his blonde beauty is just way to hard to see, especially without HD video in the 80's.
National Hockey League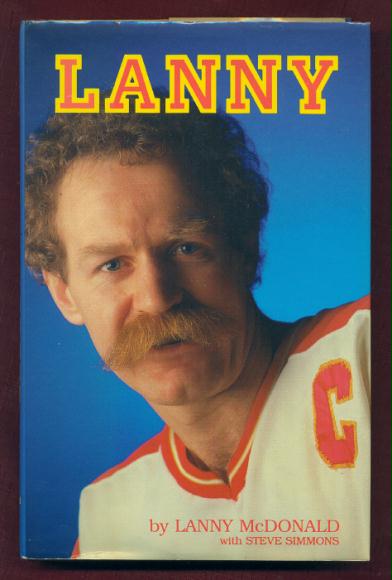 Lanny McDonald
Pop quiz: what's bushy, red, and described as walrus style? Times up. The correct answer is Lanny McDonald's mustache. He played for the Leafs, the now defunct Colorado Rockies, finished up his career with the Calgary Flames, and in 1989, a Stanley Cup championship. A career moment came for McDonald when scored a sudden death playoff goal to eliminate the New York Islanders in 1978 while playing for the Leafs. He did this with a broken wrist and nose, that was no doubt held up by that walrustache. Even in his once-a-year alumni public skate appearances, McDonald still sports a thin red gray one.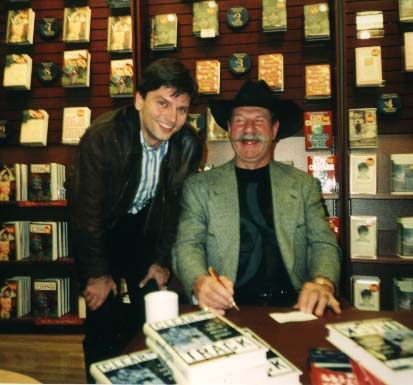 Eddie Shack
Clear the track, its Eddie Shack! I debated putting Shack on this list because after he retired, he sold out. In an advertising campaign by Schick he was paid to shave off his duster. What a shame, but then again he did play in the era where players often had to hold down second jobs in the summer, and had nothing in the way of a retirement plan.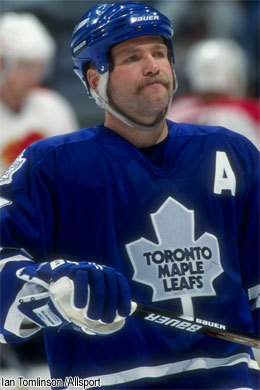 Wendell Clark
I swear I'm not being a homer by picking three hockey players who had played for the Leafs. Instead of going for championships, they have clearly gone with style, as all three of these mustached stick handlers have at one point played for the Leafs. Clark played for the Leafs during three separate tenures, and is most fondly remembered for his water-bottle launching shots and his handlebar mustache during the final days of Maple Leaf Gardens.
Honourable NHL Mention
Larry Robinson of the Montreal Canadiens, I just couldn't hurt my Leafs by putting a Canadien on the list
National Football League
Despite boasting some of the toughest and hard hitting guys on this list, a good moustache is often wasted on NFL players since they have to wear those pesky facemasks.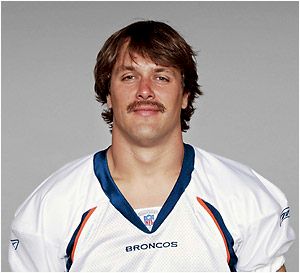 Jake Plummer
In his best season, Plummer sported the dirty sanchez north of Mexico. The Adam-Morrison-like dirtstache, that I'm willing to categorize under the sanchez style. His dirty sanchez was so popular that after he shaved it an online petition was started to bring it back. It was successful. The Mustache Gods frowned upon Plummer's decision to shave though and his career was all downhill from there.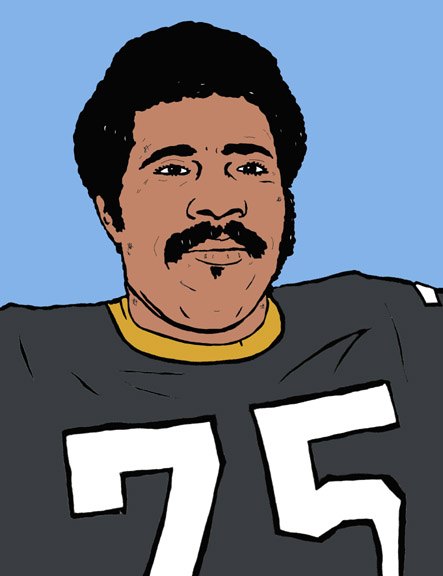 Mean Joe Greene
Joe Greene's reputation preceded him the way lightning precedes thunder, on the field, and in the name. Once after a dirty hard hit on a QB the other teams bench started to walk on the field towards Greene. He and he alone walked back challenging them, and they backed off. Another time, after a kid offered him his Coke he gave the kid his jersey; maybe he wasn't so mean after all. Sure he had a beard during most of his career, but upon acceptance into the Hall of Fame he made the right choice.
Honourable NFL Mention
Andy Reid. Head Coach of the Philadelphia Eagles
Bill Cowher. Former Head Coach of the Steelers and current broadcaster