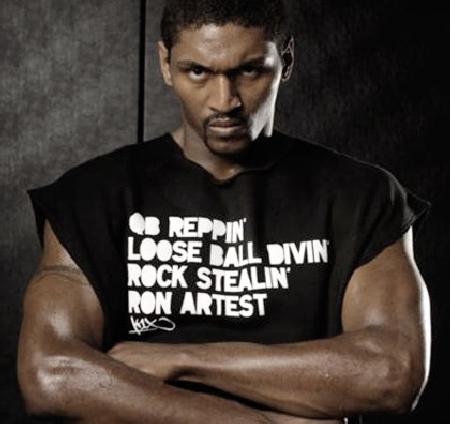 There's something wrong with this guy. I don't know what it is, but there's never a dull moment when Artest is on the court. The incident in Detroit was a shame and is not something that should not be made light of, but outside of that he's an entertaining player to say the least. Here are my top 5 favorite Ron Artest Moments:
#5 – "Don't you know you're hittin' Ron Artest" – After Kobe elbowed him the chest in game 2 of their playoff series a few nights ago, Artest confronted Kobe and got ejected. In a postgame interview he responded to the incedent with some arrogant smack talk for Kobe.
#4 – "Roy is probably the best player I've played against" – Not Kobe, not LeBron, not Dwayne Wade, Brandon Roy.
#3 – Ron the Marketing Guru – Artest comes up with a brilliant way to promote his album.
#2 – "I've been in the stands before" – Ron responds to a less violent trip into the crowd. Yao finds it hilarious and chimes in.
#1 – Paul Pierce pantsing and apology – Artest comes up with an interesting technique to stop Paul Pierce, which fails. He then apologizes with a musical performance prior to their next game.
Hopefully he'll create some more memories for us as the playoffs continue. Until then, check out his PETA poster.