The seasons changed, the leaves turned, and one of the pumpkins I bought became moldy. Fortunately I bought two. But what to carve? I've narrowed it down to a few options.
My hometown NBA franchise traded franchise star Andre Iguodala to the Nuggets in a four-way megadeal that returned us Andrew Bynum, but the oft-injured Bynum is… injured. What could be more scary than that? Oh yeah: Opening night is on Halloween, and the Sixers frontcourt of Hawes and Brown will be trying to protect the glass against Faried and McGee.
But you may not have a need to denigrate your local NBA outpost. Perhaps you want a more nationally recognizable pumpkin. This particular option lets you recreate a miniature version of the signal that rescued Team USA itself.
But it's not even basketball season yet. (It's also not hockey season, but that's a separate problem.)
I've remixed an idea from my friend Jason to create Your Halloween 2012 NFL Pumpkin, which celebrates Commissioner Goodell's new and improved approach to concussion safety.
But at the end of the day, I played it safe and went with my tried-and-true formula.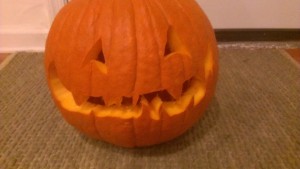 Have you ever carved a sports-related Pumpkin?