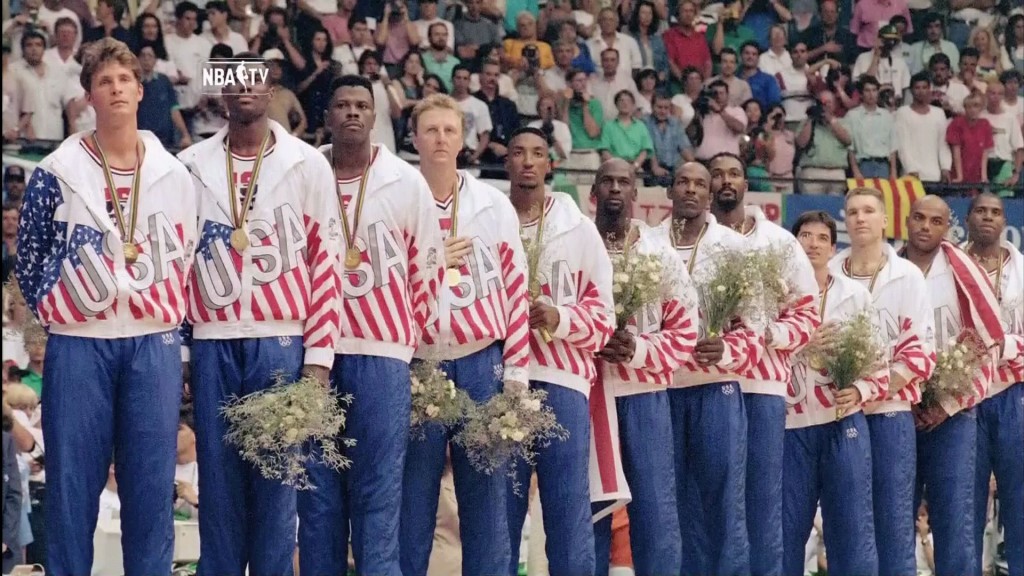 (UPDATE 6/14): Full video is at the bottom.
I'm already missing not having basketball to watch every night. Fortunately, NBATV aired a documentary about the Dream Team so I was able to get my hoops fix anyway. They crammed a lot of good stuff into an hour and a half. NBA Entertainment's Danny Meiseles said it "could have been a seven-part series". I'm not sure why they didn't go that route.
The documentary focused less on the games themselves and more on the personalities of the players and the off-court spectacle that the team became. You've got Magic Johnson coming off of an early retirement following his HIV diagnosis, Michael Jordan playing golf all day, playing a basketball game, then playing poker all night, nine other future Hall of Famers, and then Christian Laettner, who everyone seemed to hate.
One of the early controversies involving the Dream Team was the exclusion of Isiah Thomas from the team at the request of Michael Jordan (and perhaps others). I feel like this whole feud deserves its own film.
Tune in at 9pm for "NBATV presents: Isiah Slander with Some Clips of the Dream Team"

— netw3rk (@netw3rk) June 14, 2012
My thoughts exactly.
A large part of the doc focused on the team's various practices, including a scrimmage loss against a college all-star team that Coach K now insists was thrown by coach Chuck Daly. See the GIF below for my favorite highlight from the practices. I'm sure Karl Malone is thrilled that this tape came out.
The further antics of Charles Barkley are featured also. He elbows an Angolan player pretty visciously, then not 2 minutes later, everyone is talking about how much they love him. As always, Barkley has a certain charm and no one can ever stay mad at him, which I find fascinating. There's no way someone like LeBron could get away with any of the stuff Chuck does.
I enjoyed the documentary, and I'm glad that the league decided to let all this footage be seen since this was certainly a defining moment in the history of basketball and the growth of the NBA internationally. Part of me wishes they would have shown more clips from the Olympic games themselves, even though they were completely dominating performances (it seemed like they went straight from practice to the medal ceremony). I was only 3 when all this happened (my first memories of Jordan are not championships or the Dream Team, but Space Jam), so I would've liked to see some of that dominance. Overall though, well done, NBATV.
Check it out if you get a chance.
(UPDATE 6/14): Here's the full video courtesy of @Jose3030: