Tonight's Spurs-Thunder game featured a last-second sequence unlike anything I've ever seen. If you went to bed early and missed it, this Deadspin post will catch you up on all the happenings.
When the play first happened, TNT's Chris Webber went crazy, yelling about the uncalled push-off on Dion Waiters, while ignoring the fact that Ginobili could have easily been called for a violation for crossing the boundary line prior to that (and despite all of this, San Antonio ended up with possession here and a chance to win it).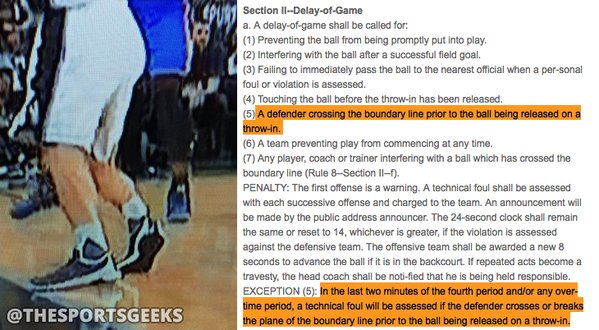 In fairness to Webber, it would be almost impossible to see Ginobili's violation in real time, but my point is this: going nuts about the Waiters push-off ignores: 1) the violation by Ginobili, 2) a potential foul by Green on Durant, 3) the fact that the Spurs got the ball anyway and had a three to win it, and 4) probably a half-dozen more fouls that took place in the rebound scrum after the miss. Scenarios like this exist in almost any close late-game situation.
In any close game, there are dozens of calls, no-calls and plays that could change the outcome, so being outraged about any single call really doesn't make any sense. As we see here, for every no-call that went OKC's way, another went in favor of the Spurs, and that's how these things almost always play out. Not to mention that fact that no amount of whining is going to change the outcome of a completed game. So next time something like this happens, don't go crazy about this call or that no-call, just sit back and enjoy the chaos.